Apple Updates GarageBand With New Instruments and Sounds to Celebrate Chinese Music
Apple today announced a major update to its GarageBand music creation software for Mac and iOS, adding a wide range of Chinese instruments that are designed to celebrate the "rich history of Chinese music." Today's update also includes "extensive Chinese language localization."
In a press release, Apple says the update adds traditional Chinese instruments like the pipa and erhu, plus Chinese percussion offerings that include drums, wood blocks, cymbals, and gongs. 300 Apple-created Chinese musical loops have also been added to the apps.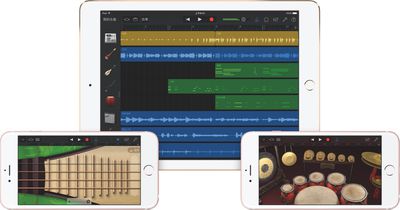 "GarageBand is the most popular music creation app in the world and we're excited to introduce these new features that incorporate the rich history of traditional Chinese music," said Susan Prescott, Apple's vice president of Product Marketing. "By adding classic Chinese instruments and new Live Loop templates, the new GarageBand app makes it fun and easy to make Chinese-inspired music right on your iPhone, iPad or Mac."
The new instruments are available on both the iOS and Mac versions of GarageBand, and each instrument includes different playing articulations like rapid picking and note bend for the pipa and trill, grace note, and glissando for the erhu.
Apple-created loops have been created from a wide variety of instruments and styles, including guzheng, dizi, yangqin and Peking Opera, which can be combined with the new instruments for a unique sound. GarageBand for iOS also includes two new Chinese templates for Live Loops and new sharing options for popular Chinese social networks.
All of the new features in today's update are automatically enabled in Greater China and for Mac users outside of Greater China. On iOS devices outside of Greater China, the features can be enabled through the advanced settings menu.
Singaporean musician JJ Lin posted a YouTube video of himself using the new GarageBand app for iOS with Tim Cook, which Tim Cook tweeted.
Apple has been aiming to express its support for China in recent weeks following hints of regulatory trouble in the country. Apple is reportedly being targeted for being "too deeply established" in China's core industries and recently saw iTunes Movies and iBooks Stores in the country
shut down
following the Hong Kong iTunes release of the controversial independent movie
Ten Years
, which had been banned in China.
Apple recently announced a $1 billion investment in Chinese ride-sharing company Didi Chuxing, and this morning, he visited the country to meet with Didi Chuxing president Jean Liu. Cook also met with App Store developers at an Apple Store in Beijing.
GarageBand for iOS can be downloaded from the App Store for $4.99. [Direct Link]
GarageBand for Mac can be downloaded from the Mac App Store for $4.99. [Direct Link]