Immersion Files Second Haptic Feedback Lawsuit Against Apple
Immersion, a company that develops and licenses haptic touch feedback technology, today filed a second lawsuit against Apple and AT&T, accusing the MacBook and MacBook Pro of violating one patent and the iPhone 6s of violating three additional patents not mentioned in the original lawsuit.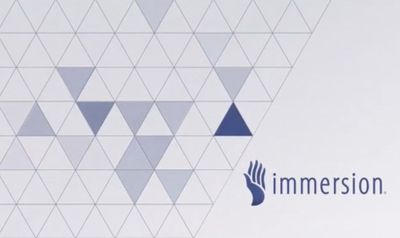 According to Immersion, iPhone 6s and MacBook features like 3D Touch and the Force Touch trackpad infringe on its intellectual property. The four patents included in today's lawsuit are as follows:
- U.S. Patent No. 8,749,507: "Systems and Methods for Adaptive Interpretation of Input from a Touch-Sensitive Input Device"
- U.S. Patent No. 7,808,488: "Method and Apparatus for Providing Tactile Sensations"
- U.S. Patent No. 8,581,710: "Systems and Methods for Haptic Confirmation of Commands"
- U.S. Patent No. 7,336,260: "Method and Apparatus for Providing Tactile Sensations"
The fourth patent is the one that Immersion accuses the MacBook, the 13-inch MacBook Pro, and the 15-inch MacBook Pro of violating, and AT&T, while named in the iPhone 6s claim, is not named in the MacBook infringement claim. According to Immersion, the Force Touch trackpad built into these products uses haptic feedback technology belonging to Immersion.
Apple's Force Touch trackpad utilizes haptic feedback to mimic the feeling of pressing on a physical button. The trackpad is able to distinguish between a light press and a harder press, with the pressure-sensitivity used to enable different gestures.
In the original lawsuit filed in February of 2016, Immersion accused Apple and AT&T of infringing on three patents with the iPhone 6, 6s, 6 Plus, 6s Plus, Apple Watch, Apple Watch Sport, and Apple Watch Edition. Immersion has added AT&T to the lawsuit because AT&T sells Apple products and offers guides, directions, and other materials that "encourage and facilitate infringing use by others."
Immersion's patent lawsuit, in which the company requests a jury trial and seeks compensatory damages, is accompanied by a second complaint with the U.S. International Trade Commission, seeking an inclusion order to prevent the sale of the accused Apple devices in the United States.