Apple Debuts 'Reimagined and Redesigned' Support Site
Apple today updated its support site with a brand new look and new ways for users to interact with it. The new site is broken into several different blocks, with most of the attention going to three different ways users can get help.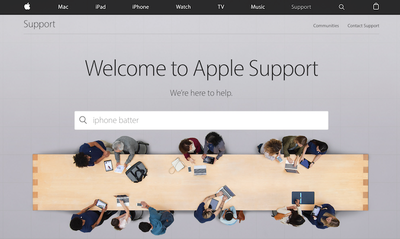 The first block is dedicated to a search bar that provides Quick Links, which allow users to get the answers they're looking for while they're searching rather than having to wait for a results page. The second block allows users to find support by choosing the device they need help with and the third block features "Popular Topics," like how to manage an Apple ID or photos.
The next set of blocks let users know they can seek help from other Apple users at the Apple Support Communities, check warranty and repair status and how to contact Apple Support. The final two blocks are dedicated to promoting Apple Workshops in retail stores and list out recall and replacement programs. The site's new design is also compatible with mobile browsers.
In recent months, Apple has worked to make it easier for its customers to seek help from the company about its products. Last month, Apple launched the
Apple Support
Twitter account, which quickly
gained momentum
after its genesis and was responding to nearly 100 tweets per hour.