Today at the 2016 NAB Show, CalDigit announced four new storage products utilizing the latest Thunderbolt 3 and USB 3.1 Type-C technologies.
The first is the CalDigit T8, a Thunderbolt 3 RAID 0, 1, 5, 6, and JBOD storage solution with 8-bays offering capacities up to 48TB with 3.5" HDDs and 8TB with SSDs. The device's dual Thunderbolt 3 ports deliver up to 40Gb/s bandwidth, while dual USB-C ports work with Type-C computers like the 12-inch Retina MacBook.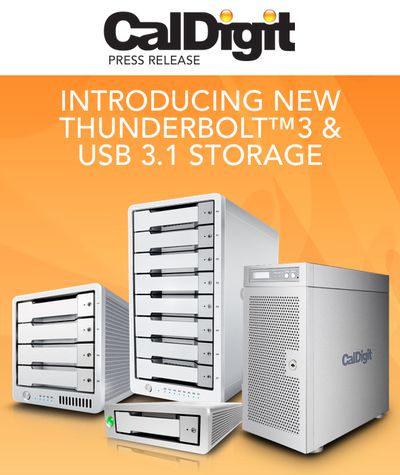 The new T8 features speeds of up to 1440MB/s with SSDs, two fans for cooling and a full-size DisplayPort connector on the back of the unit that enables users to connect a 4K monitor at 60Hz to the storage device. CalDigit has not released pricing for the T8 yet, but it will be available in late 2016.
The second is the CalDigit U6, a 6-bay USB 3.1 Type-C RAID 0, 5, 6, 10 and JBOD storage solution that features USB 3.1 for up to 10Gb/s throughput. Like the T8, the U6 has a USB-C connector that is compatible with any PC, Mac, or Chrome computer with Type-C ports. The U6 will start at $1,399 MSRP for the 12TB version in late 2016.
Likewise, the CalDigit AV Pro 2 is a new single-drive storage solution featuring USB 3.1 Type-C for connectivity with the 12-inch Retina MacBook and other Type-C computers. The successor to the original AV Pro features capacities up to 6TB and 1TB with SSDs, and speeds of up to 200MB/s with 3.5" HDDs or 430MB/s with SSDs.
Meanwhile, the T4 RAID will be upgraded with Thunderbolt 3 later in 2016. Pricing for the AV Pro 2 and T4 RAID has not been announced.
Apple is widely expected to release its first Mac notebooks with Thunderbolt 3 later this year. Unlike Thunderbolt 2, the technology functions over a USB-C port, meaning that the next-generation Skylake-based MacBook Pro, and possibly the MacBook Air if not discontinued, should be equipped with both Thunderbolt 3 and USB-C.