Thunderbolt
By MacRumors Staff
Thunderbolt Reviews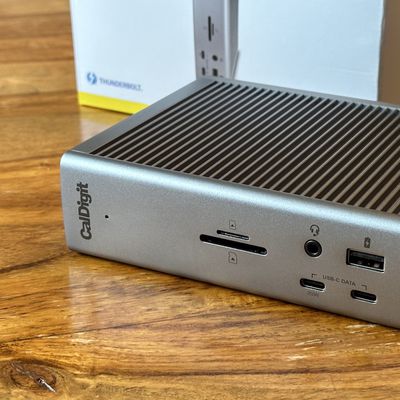 CalDigit's Thunderbolt Station 4 (TS4) is a dock with 98W charging power and an impressive array of 18 ports, ideal for Mac setups with a wide range of connection requirements. The dock comes with a price tag of $399.99, reflective of its high-speed data transfer, expansive connectivity, and powerful charging abilities. While it may not be the most budget-friendly option on the market, its...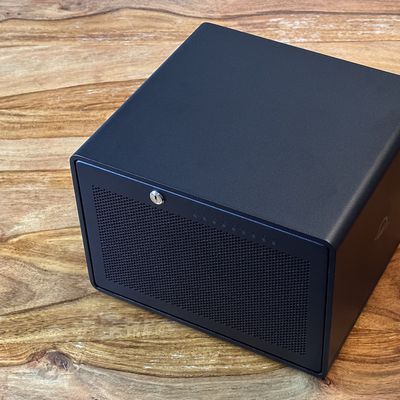 With the ThunderBay 8, OWC expands its vast range of professional-grade Thunderbolt accessories, offering an ultra high-capacity storage solution with eight hot-swappable universal bays for 3.5- or 2.5-inch hard drives or SSDs. The ThunderBay 8 can serve as a high-performance personal data center with multiple configuration options to suit ever-growing storage requirements. It can...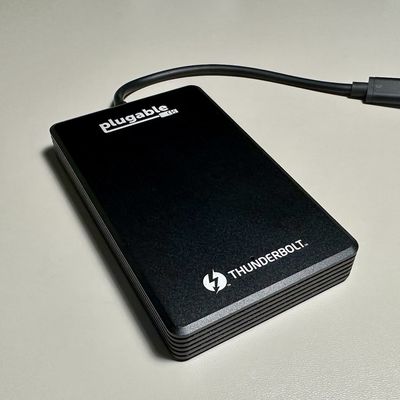 Plugable offers a wide range of adapters, hubs, and storage solutions for the Mac. The Thunderbolt 3 2TB NVMe Solid State Drive is among the company's more popular performance-focused products, offering a relatively high storage capacity in a small form factor, with ultra fast transfer speeds. The SSD is perfectly suited to recent Mac models with Thunderbolt 3 or Thunderbolt 4 ports,...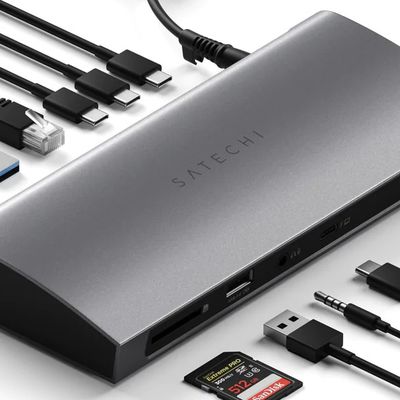 Satechi's Thunderbolt 4 Dock provides a multitude of ports, including three Thunderbolt 4 ports, four USB-A ports, Gigabit Ethernet, a UHS-II card reader, and a 3.5mm audio jack, to increase your Mac setup's versatility for a price of $299. Thunderbolt allows data transfer from all of the ports to take place through a single cable connected to your host device. While not all Macs have a...
Thunderbolt Articles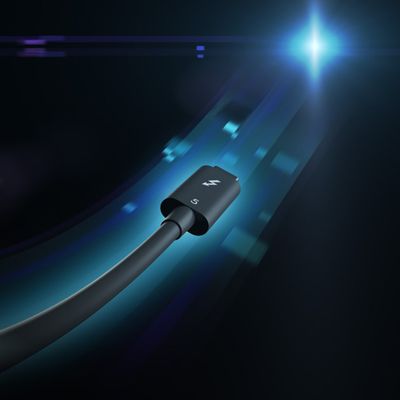 Intel today announced Thunderbolt 5, the next-generation version of the connectivity standard present on all Macs and iPad Pro models, promising significant improvements in connectivity speed and bandwidth. Thunderbolt 5 delivers 80 Gbps of bi-directional bandwidth and, with Bandwidth Boost, can provide up to 120 Gbps for video-intensive usage. This enables considerably better display...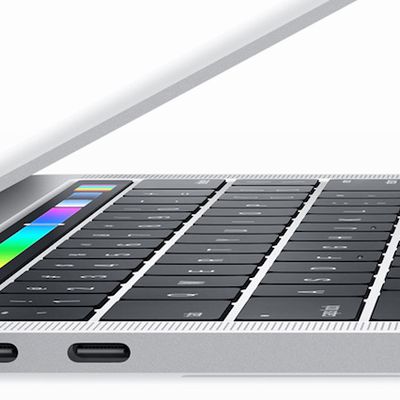 Apple is working on Macs that use its custom Apple-designed Apple Silicon chips instead of Intel chips, but Apple has committed to continuing to support Thunderbolt, reports The Verge. In a statement, an Apple spokesperson said that Apple's upcoming machines will offer support for Intel's Thunderbolt USB-C standard. "Over a decade ago, Apple partnered with Intel to design and develop...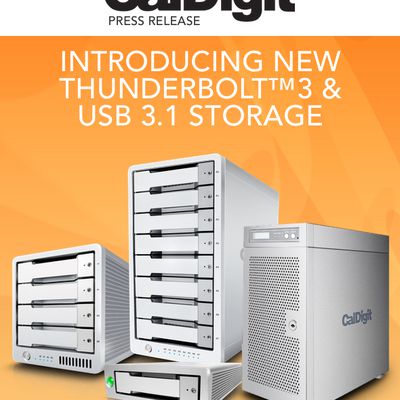 Today at the 2016 NAB Show, CalDigit announced four new storage products utilizing the latest Thunderbolt 3 and USB 3.1 Type-C technologies. The first is the CalDigit T8, a Thunderbolt 3 RAID 0, 1, 5, 6, and JBOD storage solution with 8-bays offering capacities up to 48TB with 3.5" HDDs and 8TB with SSDs. The device's dual Thunderbolt 3 ports deliver up to 40Gb/s bandwidth, while dual USB-C...