Apple has announced that it will be ending support for iTunes Allowances, a feature of the service that allowed parents to automatically place money into a child's iTunes account on a monthly basis. As of April 13, users can no longer create new iTunes Allowance deposits, with the feature officially getting cut-off for good on May 25, 2016.
After that date, any unused allowance credit will be rolled over into the recipient's basic iTunes account and can be used as normal, but the monthly deposits will cease afterwards. Apple has been informing iTunes Allowance users via email about its cancellation, but gave no specific reason as to why it'll be ending the long-running program.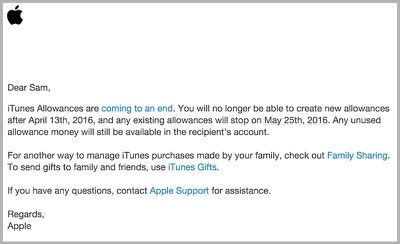 iTunes Allowances let parents gift kids with a monthly amount of store credit -- from $10 to $50 -- without needing to give them credit card information. The allowance credit could be used like a normal iTunes Store gift card, for purchasing content from the iTunes Store, App Store, iBooks Store, Mac App Store, or even an Apple Music membership.
The company encourages users to use its Family Sharing features, including Ask to Buy for underage members of a shared account group, in lieu of the allowance feature. It also encourages those who have questions to contact Apple Support as May 25 gets nearer.
(Thanks, Sam!)