Facebook Introduces Chatbots for Messenger, Pushes Further Into Live Video
As was rumored last week, Facebook today announced plans to bring chatbot support to its Messenger platform. At the Facebook F8 Developer Conference, Facebook CEO Mark Zuckerberg demonstrated a Messenger chatbot on stage, using the Messenger platform to order flowers from 1-800-Flowers through a text conversation.
"To order from 1-800-Flowers, you never have to call 1-800-Flowers again," said Zuckerberg, explaining that Facebook chatbots are designed to allow users and businesses to connect together in new ways. "You don't have to install an app or enter your credit card."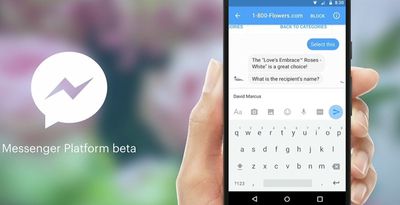 Developers will be able to build chat programs to interface with users. These will range from product-based companies like 1-800-Flowers to news companies like CNN, another one of Facebook's partners.
Facebook also plans to expand its Live Video feature, which has proven popular with users and public figures. According to Zuckerberg, Live Videos on Facebook garner 10 times more comments than standard videos, which is one of the reasons Facebook recently began rolling out a prominent video tab in the Facebook app to allow users to quickly access live videos from friends and other people.
Starting today, Facebook is opening up its Live Video API, allowing the feature to be built into any device. One of Facebook's early launch partners is drone company DJI, and drone live streaming video was shown on stage.
Over the next five years, Zuckerberg says Messenger Platform and Live Video will be built up over the next five years, and over the next 10 years, Facebook will focus on connectivity, artificial intelligence, and augmented reality.


Other features announced today include Facebook Accounts and a Save button for developers. Facebook Accounts will allow users to use Facebook's sign in feature for apps and services with just a phone number, eliminating the need to remember a username and password. With Accounts, a sign in code is texted to a user, with the code replacing a password. The Save feature will let users save content on websites with a built-in Facebook Save button to their Facebook feeds for accessing it later.