iOS 9.3 'Most Stable New Release in Years', Says Analytics Firm
Despite its much-publicized problems, Apple's iOS 9.3 is showing a lower crash rate than all active iOS builds, an app analytics firm reported yesterday (via AppleInsider).
According to California-based Apteligent, over the past eight days iOS 9.3 has had a crash rate of only 2.2 percent, making it the most stable iOS release in circulation. Apple's new iOS also beat the latest version of Android, which had a reported crash rate of approximately 2.6 percent.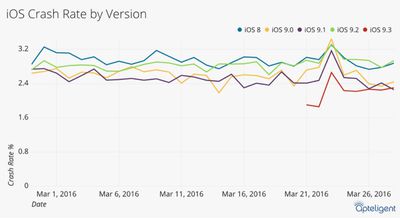 By contrast, iOS 8, iOS 9 and iOS 9.2 have all fared worse over the month of March, with crash rates of 3.2 percent meaning their users were more likely to experience problems than early adopters of Apple's latest mobile OS iteration.
The study will come as a surprise to many, following media coverage of issues reported by a number of iOS users. Apple is aware of an issue causing web links to crash in multiple iOS apps like Safari, Mail, and Messages, and says it is working on a fix that will be released "soon" via a software update.
The bug was the second major bug to affect iOS 9.3 users. The first rendered some older devices unusable due to a problem with Activation Lock, which required customers to enter the information originally used to set up their iPhone or iPad. Apple released a new version of iOS 9.3 on Monday to fix the issue.