Web Links Crashing Safari, Mail, Chrome, and Other Apps on iOS 9.3 [Updated]
A significant number of iPhone and iPad users on the MacRumors discussion forums, Apple Support Communities, and Twitter have reported an apparent iOS bug that causes Safari, Mail, Messages, Notes, Chrome, and select other preinstalled and third-party apps to crash or freeze after tapping or long-pressing on web links.
The issue has grown wider since
iOS 9.3 was publicly released
last week, but some users also claim to be affected on iOS 9.2.1 and earlier software versions. A wide range of devices appear to be affected, including the iPhone 5, iPhone 5s, iPhone 6, iPhone 6 Plus, iPhone 6s, iPhone 6s Plus, iPad Air 2, and iPad mini.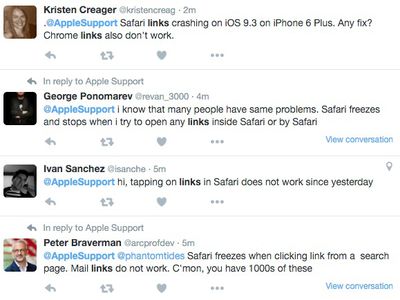 Apple has yet to comment on the matter, but some users have suggested turning off JavaScript under Settings > Safari > Advanced as a temporary solution. However, this will degrade your web browsing experience. Force closing Safari or other affected apps, or restarting the iPhone entirely, does not appear to fix the problem.
The underlying cause of the problem remains unconfirmed, but there is speculation that the Booking.com app may be a contributing factor. Over the weekend, a Russian-language video was uploaded to YouTube that demonstrates how Safari links become unresponsive on iPad Air 2 after the popular travel app was installed.
Mobile specialist Ben Collier
believes
there may be a related bug that breaks iOS 9's new Universal Links feature when an app's site association file is beyond a certain size, and iOS developer Steven Troughton-Smith
confirmed
that the Booking.com app had an unnecessarily large 2.3MB file for deep linking.
In iOS 9 Apple introduced Universal Links, these allow app developers to associate their website and app, so links to the website can open the app up automatically if installed. For example, following a link to a Guardian article opens up the Guardian app to that specific article instead of their website. […]

It looks like there's a bug in iOS that completely breaks the Universal Links if it gets served an app association file that's too large. […]

It seems that the large size of their file, due to it having every URL from their website inside it breaks the iOS database on the device. Apple allows you to have pattern based matching, so instead of having to include every hotel's URL in the association file, Booking.com could just put /hotel/* to match all the hotels on their site.
Booking.com has since reduced the file to around 4 KB, which should prevent the issue from affecting additional users, but it appears that the deep linking iOS database will remain corrupted on devices already affected until Apple releases a software update.
In the meantime, some users have resorted to using Puffin, iCab, or select other third-party web browsers to bypass the web links issue. Apple engineers are seemingly aware of the issue, and this article will be updated with new information as it becomes available.
Update: Collier now points towards tweets indicating that the issue may be related to the Shared Web Credentials daemon, which allows apps and websites to share login credentials for the purposes of Universal Linking.
Update 2: Apple has confirmed to TechCrunch that it is working on a fix for the issue and plans to release it in an upcoming software update.