AT&T Expands Wi-Fi Calling to Cover International Calls to U.S. When Traveling
AT&T first introduced Wi-Fi calling in October of 2015, allowing customers to place calls over Wi-Fi in instances where a cellular connection is poor. At launch, AT&T's Wi-Fi calling feature could only be used within the U.S., Puerto Rico, and the U.S. Virgin Islands, but as of this week, Wi-Fi calls can also be made from other countries.
Starting this afternoon, and following the iOS 9.3 update, AT&T began sending text messages to customers notifying them of the change. When traveling abroad, a call placed to the United States or received from the United States using Wi-Fi calling will incur no long distance charges, a feature that should be highly useful to AT&T customers who are visiting another country and calling home.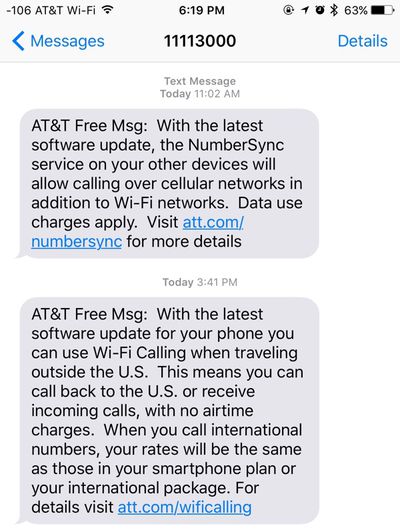 As long as a U.S. number is calling another U.S. number using Wi-Fi calling, there will be no charge, regardless of physical location. Calling an international number from a U.S. phone with Wi-Fi calling will continue to incur standard international call charges.
In a domestic coverage area, Wi-Fi calling is enabled whenever wireless network coverage is weak or unavailable. When outside of a domestic coverage area, Wi-Fi calling is now turned on whenever a phone connects to a Wi-Fi network. AT&T's Wi-Fi calling website has been updated with new text to reflect the updated capabilities.
Use Wi-Fi Calling to talk and text over an active Wi-Fi connection. Wi-Fi Calling lets you talk and text from indoor locations where it's hard even for a strong cellular signal to reach. Wi-Fi Calling can be used in the Domestic Coverage Area (U.S., Puerto Rico, and U.S. Virgin Islands) and from most international countries.
The new international Wi-Fi calling feature is available on the iPhone 6, 6s, 6 Plus, 6s Plus, and newly introduced iPhone SE, so long as iOS 9.3 is installed.
AT&T is also notifying customers about a change to NumberSync, which now allows devices linked to an iPhone to make or receive calls over an AT&T cellular connection, something that wasn't previously possible.
The NumberSync feature allows AT&T users to make calls and send text messages using their phone number from a device like an iPad or Mac even when their iPhone is turned off or in another location. Previously, devices had to be connected to Wi-Fi to use the feature, but starting today, a cellular iPad or other device with a cellular connection can use it to make NumberSync calls when a connected iPhone is unavailable.