Wi-Fi Calling Now Available for AT&T Users
AT&T has flipped the switch on Wi-Fi calling, making it available to customers with eligible plans that are running iOS 9. MacRumors has received tips from customers who were able to activate Wi-Fi calling and we were able to activate the feature on our own iPhones. A number of readers in our forums are also having success activating Wi-Fi calling.
Wi-Fi calling is a feature that lets calls be placed over a wireless connection when cellular connectivity is poor, functioning much like an AT&T M-Cell does now. It's similar to Apple's own FaceTime Audio feature, which also routes calls over a Wi-Fi connection.
AT&T customers can turn on Wi-Fi calling by going to the Phone section of the Settings app and toggling on the Wi-Fi calling feature. From there, there are a set of steps to walk through, including entering an emergency 911 address. Wi-Fi calling is available on the iPhone 6, 6s, 6 Plus, and 6s Plus running iOS 9.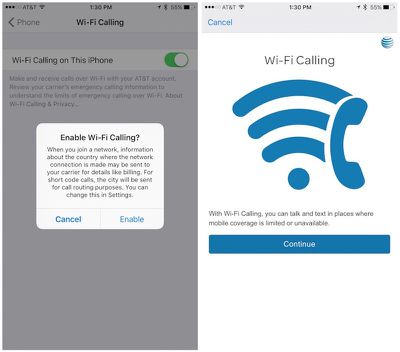 Customers who want to use Wi-Fi calling need to have AT&T HD voice features enabled, along with an Internet connection. Wi-Fi calling can be used for voice calls within the United States, Puerto Rico, and United States Virgin Islands at no charge. Long distance global voice calls will be charged standard long distance rates.
Once the setup process is complete, customers are receiving notifications letting them know the Wi-Fi calling feature will be available after a short activation period.


AT&T promised to launch Wi-Fi calling alongside iOS 9, but last week announced the feature was delayed due to its inability to get an FCC waiver that would temporarily allow the carrier to forgo offering support options for deaf and hard-of-hearing customers. On Tuesday of this week, AT&T finally received the waiver that it needed to move forward with Wi-Fi calling.