Apple today released new software for the Apple Watch, upgrading watchOS 2 from version 2.1 to version 2.2. WatchOS 2.2, which has been in testing since January 11, comes more than three months after the release of watchOS 2.1 and brings a couple of important new features alongside bug fixes and performance improvements.
The 2.2 update can be downloaded through the dedicated Apple Watch app on the iPhone by going to General --> Software Update. To install the update, the Apple Watch must have 50 percent battery, it must be placed on the Apple Watch charger, and it must be in range of the iPhone.
WatchOS 2.2, along with iOS 9.3, introduces support for pairing multiple Apple Watches with a single iPhone. Both updates are required, and each watch paired with an iPhone running iOS 9.3 must have watchOS 2.2 installed.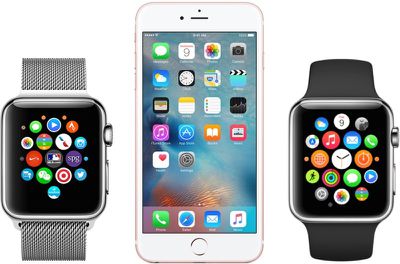 There are few other outward-facing changes included in watchOS 2.2, but the update brings improvements and a new look to the built-in Maps app. Maps now supports the Nearby feature first introduced with iOS 9, allowing users to quickly locate local points of interest, and it has new buttons for quickly accessing directions to home and work.


Along with multi-watch support and a revamped Maps app, watchOS 2.2 also brings under-the-hood performance improvements and bug fixes to address issues that have been discovered since the release of watchOS 2.1.