Ford Launching 2017 Escape in May as its First CarPlay Vehicle
As promised, Ford has announced that its new 2017 Escape will be its first vehicle to support CarPlay and Android Auto through its SYNC 3 Connect platform.
The automaker's best-selling SUV has entered production in Louisville, Kentucky, and sales will begin at U.S. and Canadian dealerships in May 2016.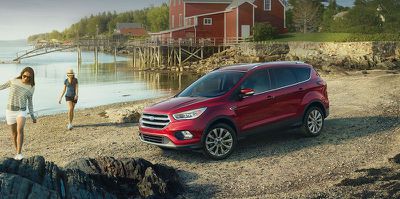 Ford's all-new 2017 Escape hits dealerships in May 2016 (Image: Ford)
CarPlay will bring Maps, Phone, Messages, Music, Podcasts, and a number of third-party apps, such as Spotify, to the 2017 Escape's in-dash multimedia system.
The Apple software can be controlled with Siri and your vehicle's built-in controls for convenient access to common iPhone features. iPhone 5 or later is required.
The new Escape also features available driver-assist technology that can "help keep drivers in their lane, maintain a set speed and distance on the highway, and even aid drivers in getting out of a tight parking spot."
Ford announced in January that it would be adding CarPlay and Android Auto to all 2017 vehicles in North America equipped with BlackBerry's QNX-based SYNC 3 platform, starting with the new Escape.
CarPlay and Android Auto will also be available in 2016 Ford vehicles with SYNC 3 as an upgrade later this year.
CarPlay is available in over 100 new 2016 and 2017 models worldwide from Acura, Audi, Buick, Cadillac, Chevrolet, Citroën, DS Automobiles, Ferrari, Ford, GMC, Honda, Hyundai, Mercedes-Benz, Mitsubishi, Opel, Porsche, Peugeot, Seat, Škoda, Suzuki, Volkswagen, Volvo, and other carmakers.
CarPlay and Android Auto will also available in select Chrysler, Dodge, and Jeep models beginning this year. Toyota, meanwhile, remains one of the largest automakers that has yet to adopt CarPlay, instead choosing SmartDeviceLink, despite being listed as a committed partner on Apple's website since 2014.