Possible iPhone 7 Plus Dual Camera Module Depicted in New Images
Amid rumors suggesting the larger-screened iPhone 7 Plus will be differentiated from the iPhone 7 with a dual-lens camera system, multiple images depicting a dual-camera part that could be used in the device have surfaced.
This morning, Taiwanese site Apple.club.tw [Google Translate] shared images of a dual-camera module potentially destined for the iPhone 7 Plus, which matches earlier images of a dual-camera module shared in January by Chinese site Chuansong.me [Google Translate] and highlighted over the weekend by French website Nowhereelse.fr. Similar camera module photos have also been spotted on Chinese social networking site Weibo (login required).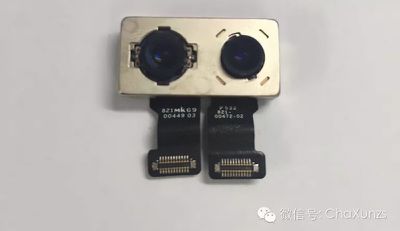 Image via Chuansong
All of the images appear to depict the same camera module, featuring a dual-lens setup with a narrower lens in a larger enclosure on the left and a wider lens in a smaller enclosure on the right, along with two cables that would allow it to attach to the logic board of an electronic device.

Image via Weibo


Because images of the module first started showing up in January, it might be easy to dismiss it as a part for another smartphone, but January is also the month we got our first look at an alleged iPhone 7 backlight component, suggesting early parts have perhaps been in production for several months already.
We can't confirm this is a component that will be used in the iPhone 7 Plus, but in addition to lining up with dual-camera rumors, it is labeled with an "821" part number, which Apple has used in the past. With rumors suggesting Apple has been experimenting with dual-camera modules from several manufacturers, there's a good chance this is a genuine part.

Image via Apple.club.tw


Apple is said to be preparing to introduce a dual-lens setup in at least one version of the iPhone 7 Plus. Current rumors point towards the launch of an iPhone 7 and two variants of the iPhone 7 Plus, one with a single camera and one with two cameras. It isn't known if this is just a prototyping phase or if Apple actually intends to release two versions of the iPhone 7 Plus, but rumors do agree that while we may see dual cameras in the iPhone 7 Plus, the 4.7-inch iPhone 7 will continue to use a standard single-lens camera.
Apple's dual-lens camera system is said to take advantage of technology acquired from LinX Imaging, introducing 2-3x optical zoom capabilities for images that are clearer, brighter, and with more detail, especially in low light conditions. Apple will likely launch the iPhone 7 and 7 Plus in September of 2016.