Tim Cook, Tech CEOs and Top Republicans Attend Secretive Meeting About Donald Trump
Tim Cook attended American Enterprise Institute's annual World Forum this past weekend in Georgia alongside Google CEO Larry Page, Tesla CEO Elon Musk, and other tech leaders, according to a new report from The Huffington Post. Top Republican officials, including Senate Majority Leader Mitch McConell, Speaker of the House Paul Ryan and Arkansas Senator Tom Cotton also attended, with the main topic of conversation revolving around Republican Presidential Candidate Donald Trump.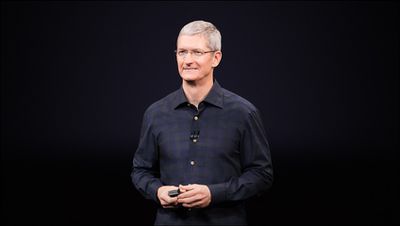 Bill Kristol, editor of The Weekly Standard and political commentator, wrote in an emailed report that much of the conference was haunted by "the specter of Donald Trump," with many attendees unhappy about his emergence and discussing how he gained his support.

"The key task now, to once again paraphrase Karl Marx, is less to understand Trump than to stop him," Kristol wrote. "In general, there's a little too much hand-wringing, brow-furrowing, and fatalism out there and not quite enough resolving to save the party from nominating or the country electing someone who simply shouldn't be president."
Some sources familiar with the meetings told The Huffington Post that the meeting centered more around how and why Trump has attracted support rather than how to stop him. The meeting included a presentation by Republican political consultant Karl Rove about focus group findings on Trump.
While Trump took up much of the conversation, the discussion eventually turned to encryption. Cook and Cotton "fiercely debated" cell phone encryption, and one source tells The Huffington Post that "Cotton was pretty harsh on Cook." Cotton's aggressiveness was reportedly hostile enough to make other attendees uncomfortable.
Since Apple and the FBI began their duel over encryption, Trump has criticized the company for its decision to oppose a court order to unlock the San Bernardino shooter's iPhone. The Presidential candidate has said that Apple should unlock the phone and called for a boycott on Apple products until the company complies, despite using an iPhone to tweet.
Note: Due to the political nature of the discussion regarding this topic, the discussion thread is located in our Politics, Religion, Social Issues forum. All forum members and site visitors are welcome to read and follow the thread, but posting is limited to forum members with at least 100 posts.