Apple Working on Fix for Spotify Kernel Panic Bug on OS X
Spotify team member Johan Lindstrom has confirmed that Apple is working on a fix for a bug that occasionally triggers a kernel panic on OS X when running the streaming music service's official Mac desktop app.
The issue first arose in the Spotify support community in October, when a user claimed that OS X 10.9.5 was crashing after updating to Spotify version 1.0.15.133. Since then, dozens of other affected users have shared kernel panic logs.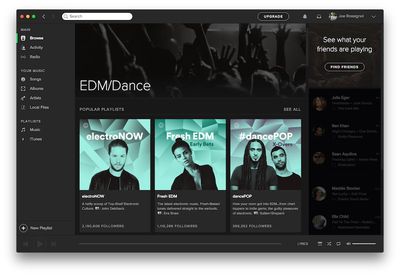 I've been in contact with Apple and they have confirmed that this is a known bug in the current and recent versions of OS X. They are working on a fix, but I don't know when they will roll that out. The bug that is causing the kernel panic is being triggered when running Spotify simply because the Spotify app is making network requests (to stream music etc.) and there are several other apps that also cause the same kernel panic to occur.
In the meantime, the user-suggested workaround is to disable OS X's built-in system firewall under System Preferences > Security & Privacy > Firewall. The firewall is normally used to control which apps send or receive network traffic, so be aware of the potential security implications of disabling it.
Spotify has sent the kernel panic logs to Apple and pointed them towards the support community topic, but it remains unclear when the bug will be fixed. Apple seeded the fourth beta of OS X 10.11.4 to developers for testing earlier this week, while OS X 10.12 will likely be previewed at WWDC in June.
(Thanks, Daniel!)