Apple's 'iPad Air 3' to Be Branded as an iPad Pro With Smart Keyboard and Apple Pencil Support
Apple's next-generation 9.7-inch iPad has been presumed to be dubbed "iPad Air 3," in line with the last several generations of the device, but according to a new report from 9to5Mac, Apple will instead be branding the new device as part of the iPad Pro family when it is introduced at the company's rumored March 15 media event.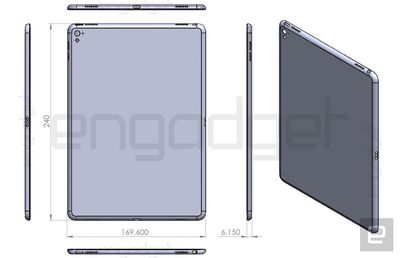 The smaller iPad Pro will have nearly identical features and specifications as the bigger model, bringing along the A9X processor and RAM upgrades from the 12.9-inch model. It will also include the 12.9-inch model's updated display technology to support the Apple Pencil.
Other features being carried over from the larger iPad Pro include the Smart Connector and the Smart Keyboard, with the latter being made available in a smaller size to fit Apple's mid-sized tablet form factor.
Apple is also reportedly winding down production on iPad mini 2 and original iPad Air models, allowing the company to simplify its tablet lineup to include the 12.9-inch iPad Pro, 9.7-inch iPad Pro, and 7.9-inch iPad mini 4 as its main devices, with the iPad Air 2 likely remaining available as an entry-level model at the middle size.