StarTech's latest Dual-Monitor Docking Station debuted in December, with a feature that sets it apart from other docking stations: dual DisplayPort 1.2 connections.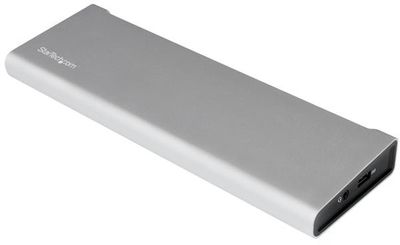 The Docking Station has a Falcon Ridge quad-channel Thunderbolt 2 controller for 20GB/s data transfer speeds. It can power two 2560 x 1600 displays through its DisplayPort connections, allowing for a dual-monitor setup that doesn't require a Thunderbolt-equipped display. It can also power a single 4K display (DisplayPort or Thunderbolt) or a DisplayPort display alongside a Thunderbolt display with a 4K resolution on the DisplayPort monitor.

This Thunderbolt 2 dock lets you connect two displays to your laptop using common DisplayPort monitors. Traditional Thunderbolt docks require that at least one of your monitors is a Thunderbolt display for dual video, which means you might need to spend extra time and money on the additional display. Because it offers two DisplayPort connections, the dock makes it easy to create a highly productive dual-video workstation, with no additional costs or inconveniences.
Along with two DisplayPorts, there are two Thunderbolt 2 connections, a Gigabit Ethernet port, and four USB 3.0 ports (one of which is Battery Charging Specification 1.2 compliant for charging devices when not connected to a laptop). It supports 5.1 digital optical audio output, line input, and includes a 3.5mm headphone jack, plus an eSATA port for connecting external storage devices. Up to 12 peripherals can be connected at one time and Thunderbolt daisy chaining is supported.
The Dual-Monitor Docking Station can be purchased from StarTech for $347.99, but it's also available from Newegg at the much lower price of $290.