For this week's giveaway, we've teamed up with EditorsKeys, a company that makes a range of keyboard covers that are designed to display all of the shortcuts to professional-level photo, video, design, and audio editing software. We're giving away 25 keyboard editing skins.
Each soft, ultra-thin silicone cover fits over the keyboard of an iMac, MacBook Pro, or MacBook Air and overlays each key with its related shortcut for quicker, simpler editing. Covers are available for a range of software, including Final Cut Pro X, Adobe Photoshop, and Logic Pro X, and they are priced affordably at $30.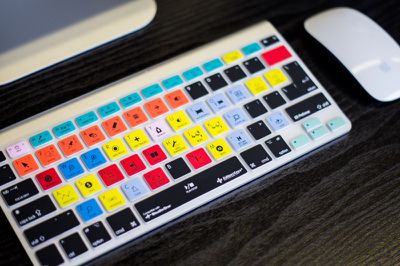 The skins are perfect for people who often use complex editing software but need help remembering all of the different shortcuts available. While the feel of the keys will be softer due to the silicone covering, the skins are thin enough that they won't affect typing speed or accuracy. As an added bonus, they'll protect your keyboard from dirt, dust, and spills.


Skins work with the 13 and 15-inch Retina MacBook Pro, the 13-inch MacBook Air, and older MacBook models including the 13 and 15-inch standard MacBooks and the 13-inch MacBook. They also work with the iMac Wireless Keyboard, but are not compatible with the new Magic Keyboard.
MacRumors readers can enter to win a silicone keyboard cover of their choice for one of the following Mac apps:
MacRumors readers who do not use any of the above listed software can win a clear keyboard skin for the MacBook Air, MacBook Pro, or iMac. To enter to win the giveaway, use the Rafflecopter widget below and enter an email address. Email addresses will be used solely for contact purposes to reach the winner and send the prize.
You can earn additional entries by subscribing to our weekly newsletter, subscribing to our YouTube channel, following us on Twitter, or visiting the MacRumors Facebook page. Due to the complexities of international laws regarding giveaways, only U.S. residents who are 18 years of age or older are eligible to enter.