iOS and Android Capture Combined 98.4% Share of Smartphone Market
The latest numbers from research firm Gartner reveal that the smartphone industry continues to be largely a two-horse race between iOS and Android. The two mobile operating systems combined for 98.4 percent worldwide market share in the fourth calendar quarter of 2015, compared to 96.4 percent in the year-ago quarter.
Android remained the world's most widely used smartphone operating system with 80.7 percent market share, while iOS recorded 17.7 percent market share. The fourth quarter has historically been the most successful for iPhone and Android-based smartphone sales due to the holiday shopping season.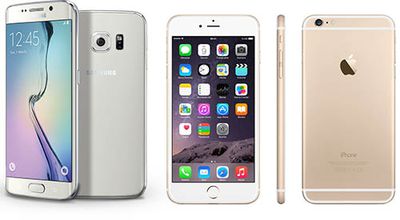 Windows Phone and BlackBerry smartphones accounted for just 1.1 percent and 0.2 percent market share respectively during the three-month period ending December. The results are largely unsurprising, as Microsoft is scaling back its Windows Phone efforts and BlackBerry released its first Android smartphone last year.


Apple and Samsung shipped a collective 551.2 million smartphones in 2015, trailed by Huawei, Lenovo-Motorola, and Xiaomi with 107.1 million, 73.9 million, and 72 million shipments respectively, according to recent Strategy Analytics data. Global smartphone shipments totaled a record 1.44 billion in 2015.
Windows Phone was perhaps the closest platform to being a true third place competitor, but its market share has dwindled as iOS and Android continue to grow. Samsung and Mozilla also have Linux-based mobile operating systems in Tizen and Firefox OS respectively, but adoption of each platform is comparatively slim.