Samsung Widens Gap Over Apple in Worldwide Smartphone Market
The latest numbers from market research firm Strategy Analytics reveal that Samsung increased its lead over Apple as the world's largest smartphone maker, after shipping 81.3 million smartphones in the fourth quarter of the 2015 calendar year. Apple announced earlier this week that it sold a record 74.8 million iPhones during the same three-month period encompassing the busy holiday shopping season.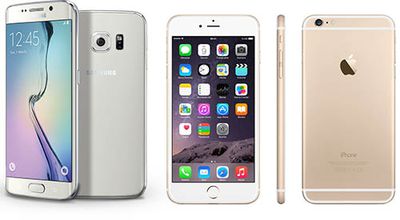 Global smartphone shipments grew 12 percent annually from 1.28 billion in 2014 to a record 1.44 billion in 2015, according to the data. Samsung and Apple contributed 319.7 million and 231.5 million smartphone sales respectively to that worldwide total, while Huawei, Lenovo-Motorola, and Xiaomi rounded off the top five smartphone makers. All other vendors collectively shipped 637.5 million smartphones in 2015.
Samsung led the fourth quarter with 20.1 percent market share, a slight increase over its 19.6 percent market share in the year-ago quarter. Conversely, Apple's fourth quarter market share was 18.5 percent, a slight decline from its 19.6 percent share in the fourth quarter of 2014. Huawei, Lenovo-Motorola and Xiaomi had market shares of 8.1 percent, 5 percent and 4.8 percent respectively.


In the year-ago quarter, Apple matched Samsung's 74.5 million smartphones shipped on the strength of the iPhone 6 and iPhone 6 Plus, but its South Korean rival has since pulled ahead again. The comparison is largely unbalanced, however, as Samsung sells dozens of different smartphone models worldwide, while Apple currently only sells the iPhone 6s and iPhone 6s Plus, iPhone 6 and iPhone 6 Plus, and iPhone 5s.
Apple expects iPhone sales will likely decline in the March quarter, marking the first year-over-year decline since the smartphone was released over eight years ago. The decline will be realized if Apple sells fewer than 61.2 million iPhones this quarter, ending in late March. iPhone growth in the just-announced first fiscal quarter of 2016 was the slowest since the smartphone's introduction in 2007.
Strategy Analytics has also published smartphone data for the Chinese market, where Apple trails closely behind Xiaomi and Huawei.