Samsung's Upcoming Galaxy S7 Rumored to Feature Water Resistant Design, Pressure-Sensitive Screen
Samsung is expected to unveil its newest smartphones at Mobile World Congress on February 21, and ahead of their debut date, several leaks have hinted at the specs we can expect to see in the flagship devices of Apple's main competitor.
Like Apple, and continuing with its own trend of dual releases, Samsung will unveil two new smartphones: the Galaxy S7 and the Galaxy S7 Edge with a curved display. Both devices look similar to the Galaxy S6 and the Galaxy S6 Edge, as seen in a render created by noted leaker @evleaks. The Galaxy S7 Edge will be larger, measuring in at 5.5 inches, the same size as the iPhone 6s Plus.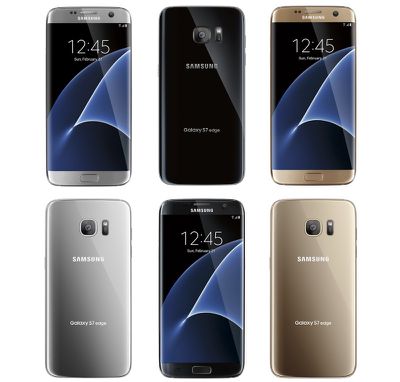 Samsung is expected to be adding a pressure-sensitive display, which would perhaps mimic some of the 3D Touch features available in the iPhone 6s, allowing it to respond to a new range of pressure-based gestures.
A microsite and video for the Galaxy S7 published this afternoon points towards improved water resistance and wireless charging, two features that are also rumored for Apple's iPhone 7. Samsung has long offered wireless charging through the Qi system, which uses a charging pad. Apple is rumored to be considering wireless charging in the iPhone 7, but it may not be ready until 2017 because Apple wants to use long-range charging that eschews a mat.
Samsung's Galaxy S5 was IP67 water resistant, a feature that didn't make it into the flagship Galaxy S6 but is
expected to be included
in the Galaxy S7. Rumors have also suggested the iPhone 7 will include improved water resistance.
While not expected to gain dual cameras like the iPhone 7 Plus, the Galaxy S7 is rumored to be gaining an improved camera that will offer better performance in lowlight photography. iPhone 7 design rumors have indicated the device may not feature a rear-protruding camera, and the Galaxy S7 design is also expected to do away with the rear camera bulge featured in the Galaxy S6.
Other rumors for the Galaxy S7 include improved battery life, the re-adoption of the micro SD card slot (in the S7, not the Edge) that was removed in the Galaxy S6, and a USB-C port for faster charging.
Samsung's newest devices will be unveiled next week, coming several months ahead of Apple's iPhone 7 and iPhone 7 Plus, its 2016 flagship devices. Apple will, however, be unveiling a new iPhone in the next month, introducing the 4-inch iPhone 5se at a March event.