Wells Fargo and Bank of America to Add Apple Pay Support to ATMs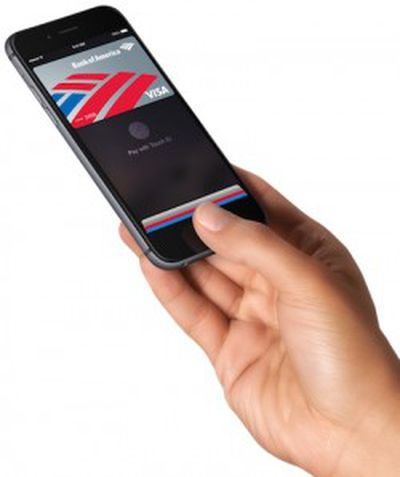 Bank of America and Wells Fargo are working on implementing Apple Pay into their ATMs, reports TechCrunch, citing a source with knowledge of the project. Both companies are said to have engineers working on the technology that would likely allow Apple Pay to be used at an ATM in place of a physical debit card.
When questioned about the possibility of Apple Pay at ATMs, Wells Fargo head of ATMs Jonathan Velline suggested the information was accurate and that Wells Fargo was working on adding support for mobile wallets that would meet all of its customers needs.
Wells Fargo's head of ATMs Jonathan Velline implied Apple Pay would come to its ATMs. He confirmed that "We've been working on the technology that allows us to hook to digital wallets, leveraging NFC on mobile phones to replace the card at the transaction at the ATM. Right now the wallet that we support is Android Pay." [...]
"But we're also looking at lots of different mobile wallets and evaluating which ones are going to be appropriate for our customers. We'll likely add more mobile wallets throughout the year."
Bank of America was less forthcoming about its plans, but told TechCrunch the company is developing a cardless ATM solution that would let customers use NFC technology on their smartphones to authenticate and complete transactions at Bank of America ATMs. The company would not confirm which phones it will work with.
Bank of America plans to begin rolling out its cardless ATM solution starting in late February at ATMs in Silicon Valley, San Francisco, Charlotte, New York, and Boston before a wider rollout set to take place in mid-2016. Wells Fargo did not provide information on when it plans to implement its NFC-based card replacement feature.
Apple Pay at ATMs would be a big win for Apple, given their prevalence across the United States. Wells Fargo has more than 12,800 ATMs, while Bank of America has more than 16,000.