iOS 9.3 Beta 2 Allows iPad Pro's Smart Connector to Update Accessory Firmware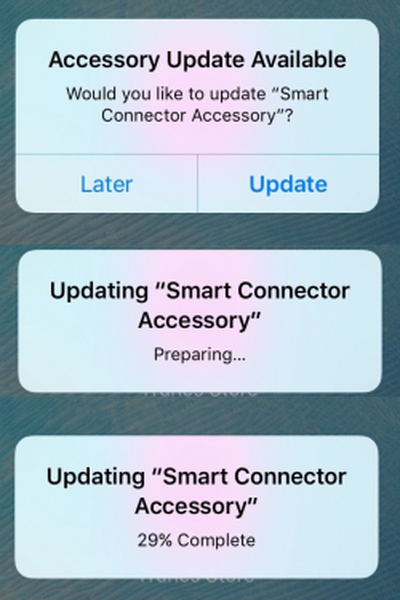 The second beta of iOS 9.3, which was seeded to developers on Monday and the public earlier today, includes a new feature that allows the iPad Pro's Smart Connector to update accessory firmware. The new feature was first spotted by German developer Stefan Wolfrum (via Cult of Mac) when he plugged his Logitech Create keyboard case into his iPad Pro.
In the past month, several users in the MacRumors forums have noted that the Create keyboard case suffers from lag and dropped keystrokes. A MacRumors forum member, who also reported that his Create keyboard had its firmware updated when plugged into an iPad Pro running iOS 9.3 beta 2, said that both issues were resolved by the firmware update.
MacRumors was able to recreate the steps that led to the update by updating our iPad Pro to beta 2 and connecting the keyboard. When the keyboard is connected, a pop-up is displayed alerting users to an "accessory update", asking whether they want to update the "Smart Connector Accessory". If a user chooses to update, the pop-up stays on the screen and displays the update progress. Once progress hits 100 percent the dialog box disappears; the update took 30 - 40 seconds. However, there was no dialog or indication of what the update changed once the process was complete.
The Smart Connector's ability to transmit both data and power at the same time has been on full display with keyboard accessories like the Smart Keyboard and Logitech Create, but it was unknown whether the port could be used to update firmware for accessories. It's unclear whether the new iOS beta housed the firmware update or whether it quickly pinged a server to download the update before applying it.