Dual Camera iPhone 7 Plus Could Offer 'DSLR-Like' Quality, 3D Depth Mapping
Earlier today, reputable KGI Securities analyst Ming-Chi Kuo said the iPhone 7 Plus will likely have a dual-lens camera system based on technology Apple acquired from LinX Imaging. The new hardware could lead to some significant improvements in camera quality on Apple's next flagship smartphone.
LinX's multi-aperture cameras pack impressive image quality in a smaller size than single aperture cameras, meaning the iPhone 7 Plus may lack a protruding camera lens and be able to take SLR-quality photos — think Canon or Nikon. The camera modules are also capable of very interesting technology called 3D depth mapping and more.
We previously provided an in-depth look at LinX's camera modules after Apple acquired the company, but it is worth recapping some of the major advantages of their technology, given today's iPhone 7 Plus rumor.

Noise Reduction
The images captured by the LinX camera are brighter and clearer, with significantly reduced noise levels, compared to smartphone cameras. Available detail when zoomed into a photo was also much greater, as can be seen in the comparison below. View this PDF for more side-by-side image comparisons.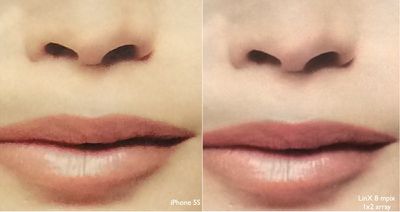 Improved Indoor Photos
In the photo below, the image was taken in mid-levels of light, at approximately 40 to 50 lux, similar to a decently well-lit room in a house or restaurant. The LinX sensor let in more light than the iPhone 5 or the Samsung Galaxy S4, for a photo that is clearer and sharper with less noise.

Improved Low Light Photos
LinX technology is able to significantly improve low light performance by using multiple channels to increase the sensitivity of the camera for better detail. It also keeps exposure times short to cut down on the motion blurring that can impact photo quality in conditions where lighting is not optimal.


LinX technology doesn't have to compromise between pixel size and resolution, as it can use small pixels but still let in adequate amounts of light.

3D Depth Mapping


LinX's multi-aperture cameras can create detailed depth maps of objects. With depth information on a per-pixel basis along with RGB information, LinX cameras can create 3D point clouds of objects from a single frame or a complete 3D model by combining several frames captured from different angles.
3D depth mapping has a number of useful applications, including 3D scanning of objects, sizing of objects, background removal and replacement and gesture recognition. The depth maps also allow for improved refocusing; by knowing the depth at every pixel, the feature allows for a synthetic blur to be applied that emulates a shallow depth.

Benefits Overview

- Better color accuracy and uniformity
- HDR - higher dynamic range
- UHDR - ultra high dynamic range
- Low noise levels
- Higher resolution


- Low module costs
- No Autofocus for modules of up to 20MP
- Zero shutter lag
- Small size allows for slim devices and edge-to-edge displays

Read A Look at LinX Camera Technology for more details about the dual camera systems.