Apple Forecasted to Report Record Holiday Quarter Amid Concerns of Slowing iPhone Sales
Apple will announce its first quarter earnings tomorrow for the 2016 fiscal year, a three-month period that ended December 31, 2015. Financial analysts predict Apple's quarterly revenue will range between $74.6 billion and $82.4 billion, but some market watchers are unsure if Apple will top the record 74.5 million iPhones it sold in the year-ago quarter, due to perceived lower iPhone 6s sales.
iPhone 6s sales concerns might be more evident in Q2 2016, however, as Apple's newest products and services, including the Apple Watch, Apple Music and the new Apple TV, coupled with the busy holiday shopping season, fuel projections that Apple will again report the most profitable holiday quarter in not only the iPhone maker's nearly 40-year history, but of any company ever.
Apple's guidance is between $75.5 billion and $77.5 billion in quarterly revenue, while the consensus among professional analysts is around $76.5 billion.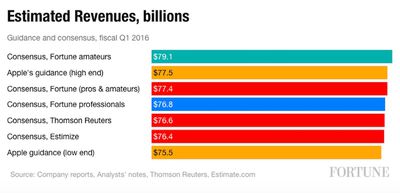 Fortune has compiled a list of predictions from both amateur and professional analysts, along with Apple's guidance in orange.


Apple has never experienced a year-over-year decline in iPhone sales, so the next few quarterly earnings results will be interesting to follow. MacRumors will be providing live coverage of Apple's Q1 2016 earnings conference call with CEO Tim Cook and CFO Luca Maestri on Tuesday at around 2:00 p.m. Pacific (5:00 p.m. Eastern). The earnings report will be released around 1:30 p.m. Pacific (4:30 p.m. Eastern).