Apple Watch Hermès Collection Now Available for Purchase Online
As reported earlier in the week, the special edition Apple Watch Hermès collection today became available for purchase online, letting customers purchase the high-end editions from the online storefronts of both Apple and Hermès. The collection comes in ten models, all branching off of three band varieties -- the Single Tour, Double Tour, and Cuff -- and was introduced by Apple at its September iPhone event.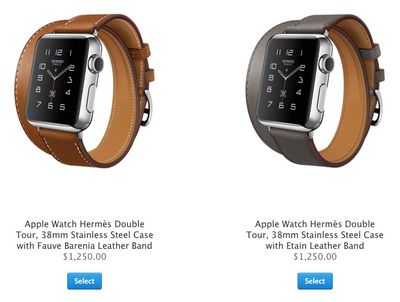 Each model of the Hermès collection includes a stainless steel Apple Watch case, and gives users a unique Hermès clock face for the wearable device. The pricing for the collection begins with the Single Tour band for $1,100, Double Tour for $1,250, and Cuff for $1,500. The Single Tour is the only one of the collection available in both 38mm and 42mm case sizes, with the Double Tour exclusively sold in 38mm and the Cuff only available in 42mm.
To purchase one of the Apple Watches in the Hermès collection, visit the online store of Apple or Hermès.