New 'Music Tracker' App Monitors Your Apple Music Library for Changes and Raises Privacy Concerns
Music Tracker, from developer Ben Dodson, is a new app designed to keep an eye on changes made to the music library on your iOS device. After downloading, the app scans a user's music library and then tracks all changes that are introduced, including new song additions, deletions, and metadata changes to details like the title, artist, album, and genre of owned tracks. Whenever a change is discovered, a notification is sent.
While this is useful for those who like to monitor content and changes made manually to a music library to keep personal logs, it's perhaps best suited to Apple Music subscribers. There are instances where content available through the Apple Music service is deleted or changed due to licensing issues with record labels, and this app will allow users to keep track of potential deletions to replace missing music.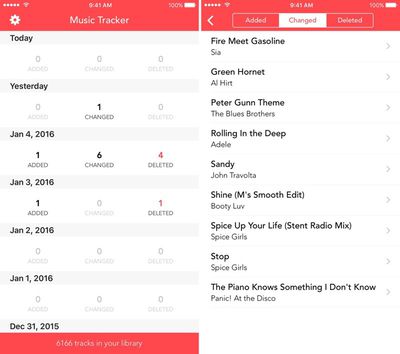 As an example, Dodson cites a recent change to a studio recording of Billy Joel's "Uptown Girl," which was silently swapped over to a live version on Apple Music. Music Tracker noted the change and Dodson was able to find a replacement studio recording on another album.
Music Tracker also includes a full Apple Watch app that provides music library details including exactly how many tracks are in a library and how many songs have been added, changed, or deleted each day. There's also a glance view with the same information and a complication for watch faces that support that feature.


During the process of developing Music Tracker, Dodson ran into some potential privacy holes that he feels iOS users should be aware of. With many third-party iOS apps, accessing user information like location, contacts, or photos requires express user permission, but that's not the case with a music library.
According to Dodson, apps are able to access a user's music library and send data on what's included back to a server, allowing it to be used for advertising or tracking purposes. An app can scan through an entire music library in mere seconds, gaining information on the music content you prefer, down to details like the song that's most often played. Dodson also believes this could be a way for advertisers and marketers to track users across multiple devices.
When iOS first came out there was something called a UDID which basically identified your device uniquely. This was used by marketers to track you across multiple apps and build up a profile. This was stopped by Apple a few years back and replaced with an advertising identifier which you can turn off and which can only be used between apps from the same company (where they are probably already tracking you). However, with a full music library, it would be fairly easy to track someone across multiple apps as periodic snapshots could be compared on a server.
Music Tracker, for its part, does not include any in-app purchases, does not require an Internet connection, and does not collect any library data from customers. Dodson says he doesn't know if there are apps that are already collecting music data from customers in the background, but he has filed a bug report with Apple to ask for a permissions feature to be implemented for the music library.
Music Tracker can be downloaded from the iOS App Store for $0.99. [Direct Link]