In a new blog post on the Logic Pro X page, Apple provides a few insights into the creation of Adele's bestselling new album "25." Along with music producers Greg Kurstin, Paul Epworth, Max Martin, and Danger Mouse, the article describes the ways that Adele and her team used Apple products like an iMac, MacBook Pro, and Logic Pro X to produce a few of the finished songs that appear on 25.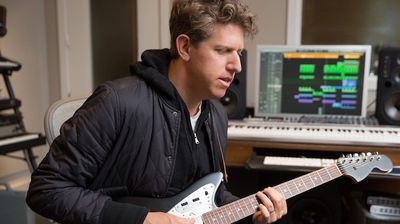 Kurstin and Adele met in a studio in London to work on the album in three separate weeklong sessions. At the end of it all, the duo had produced "Hello," "Water Under The Bridge," and "A Million Years Ago." Taking an "old-school approach" to producing, Kurstin decided to opt out of the studio's professional equipment and stick to using just his MacBook Pro, Apogee Quartet, and Logic Pro X.

"Most of the time, it was just jamming in the room really, with me at a piano," says Kurstin. "We were simply playing with ideas, looking for some chords and a vibe. It was more of an old‑school approach."

"I certainly love using a studio's professional mic preamps and dynamics processing, but I prefer my traveling Logic rig for the recording and production." he says. "I just like to avoid potential technical issues as much as possible, and I know my mobile kit works."
The on-the-fly production helped greatly according to Kurstin, with Adele writing lyrics and Kurstin recording instruments like the piano, guitar, bass, and drums within Logic Pro X. With quicker access and editing capabilities of Apple's software, the producer said that he could "usually finish a song in a day." Given his remote work in London, Logic Pro X was also able to provide him with effects and plug-ins that weren't otherwise available on hand outside of his personal Los Angeles-based studio.
Kurstin got technical towards the bottom of the post, describing the specific gear and methods he used to get "Hello" to sound just right:

"I have SoundShifter on the piano to pitch it down a half step. We wrote the song higher and changed the key, but I liked the piano sound and didn't want to replay it. I sampled my Roland TR-808 kick drum into the EXS24 and used that in the chorus to double the bass. Valhalla's VintageVerb is on the guitar single-note stuff. I filtered the drums with the Logic AutoFilter. I used SPL Transient Designer to shorten the length and add attack on those drums. And there's a little bit of Sylenth1 playing a sine-wave, organ-like pad under the chorus."
Alongside the Adele and Kurstin blog post, Apple today updated Logic Remote [Direct Link] and Logic Pro X [Direct Link]. Logic Remote gained iPad Pro and iPhone support, but the company noted that iPhone control "is compatible with Logic Pro X only and limited to transport control, dual channel strip faders, automation recording, and access to key commands." Logic Pro X's update brought simple performance updates, Retina support for 30 new plug-ins, improved VoiceOver support, and a host of other features.
Check out the full post covering Kurstin's professional use of Logic Pro X on Apple's official website.