Apple's 2016 Worldwide Developers Conference Will Likely Take Place June 13 to 17
Each June, Apple holds its Worldwide Developers Conference at the Moscone West convention center in San Francisco, California, giving thousands of developers from around the world a chance to meet up with Apple engineers and sit in on valuable workshops and software sessions.
Apple has not yet announced the dates for its 2016 conference, but based on scheduling information available from the Moscone Center, it appears there's only one narrow window that's potentially available -- June 13 to June 17.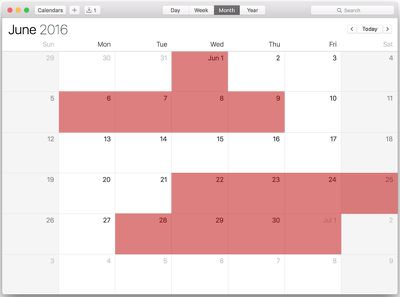 Dates in red are unavailable at Moscone West


During the first, second, fourth, and fifth weeks of June, Moscone West is booked for a Travel Association Luncheon, a Biotechnology Industry Organization conference, an International Society for Stem Cell Research convention, and the Red Hat Summit. There's nothing on the calendar for the third week of June, suggesting that's when Apple will use the facility.


Since 2007, Apple has held WWDC during the first few weeks of June, and the conference has always taken place at Moscone West due to the large number of attendees, so while there's no concrete information pointing towards Apple's WWDC plans, June 13 to 17 is a very solid guess based on past events.
At WWDC, Apple holds a keynote event on the first day to introduce new software and new products. In 2016, we could potentially see new Macs or other hardware, and we will get our first look at OS X 10.12 and iOS 10. Apple's 2015 event was software and service centric, focusing on iOS 9, OS X El Capitan, watchOS 2, and Apple Music.