AgileBits today announced a new Mac version of 1Password, its popular cross-platform password management app. 1Password version 6.0 for Mac includes several new features like an All Vaults view, a new password generator, and iCloud sync for all versions of the Mac app.
1Password's new "All Vaults" view allows users to see all of their passwords and password vaults at a glance, both in the main 1Password app and the menu bar view. Many people use vaults to organize and share their passwords for different purposes, so this will be a handy feature for accessing the passwords from multiple vaults without needing to switch back and forth. All Vaults also incorporates information from the Teams Beta, and there's a new Teams-only mode.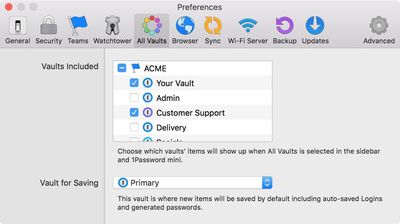 Along with a new vault view, the new 1Password update introduces a revamped Strong Password Generator that brings it inline with the 1Password for iOS app. Included is a new wordlist password generator with a "Words" option to create a password that is composed of random words. Wordlist passwords are useful because they're much easier to remember than a random assortment of characters, but are no less secure.


For people who use the non-Mac App Store version of 1Password, there's an important new feature - iCloud syncing. Apple previously did not allow non-Mac App Store apps to sync with iCloud, but changes to CloudKit have now allowed AgileBits to implement iCloud syncing for the version of 1Password purchased directly from the AgileBits Store.
Being able to sync a non-Mac App Store app with iCloud is an achievement that took quite a bit of work to implement, and it's something that other non-Mac App Store Apps don't yet feature. As AgileBits explains, the feature in 1Password is built using CloudKit web services.
In addition to these new features, the 1Password for Mac update includes a long list of bug fixes and feature improvements, which can be found in AgileBits' full change log.
Customers who own the non-Mac App Store version of 1Password can update to 1Password 6 immediately. AgileBits is waiting for the Mac App Store version to be approved, at which point those customers will also be able to upgrade at no cost.
1Password can be downloaded from the Mac App Store for $49.99. [Direct Link]
The accompanying 1Password iOS app can be downloaded from the iOS App Store for free. [Direct Link]