Brain Training App 'Lumosity' to Pay $2 Million to Settle Deceptive Advertising Charges
Lumos Labs, the company behind the Lumosity app that promises to "challenge your brain" using a daily training program of cognitive games, will pay out $2 million to settle deceptive advertising charges brought against it by the United States Federal Trade Commission.
According to the FTC, Lumos Labs deceived consumers by telling them the games in Lumosity would help them perform better at work, get better scores on standardized tests, and stave off the decline of cognitive impairment related to age or disease. It also claimed its games could help with conditions like dementia and Alzheimer's disease, as well as improving cognitive impairment associated with conditions like stroke, traumatic brain injury, PTSD, ADHD, chemotherapy, and more.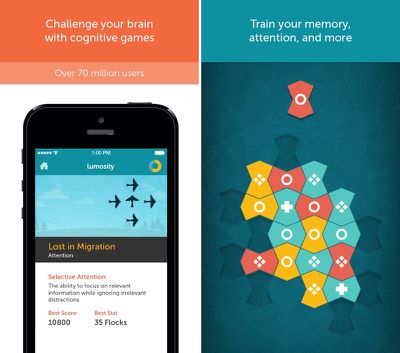 "Lumosity preyed on consumers' fears about age-related cognitive decline, suggesting their games could stave off memory loss, dementia, and even Alzheimer's disease," said Jessica Rich, Director of the FTC's Bureau of Consumer Protection. "But Lumosity simply did not have the science to back up its ads."
Available in the iOS App Store, Lumosity offers a selection of more than 50 cognitive games it claims were developed by scientists and game designers to train the brain. While a basic membership to access a limited number of games is free, a membership costs from $6.70 to $11.95 per month or up to $299.95 for a lifetime pass.
Lumosity TV, Internet, radio, and social media advertisements suggested customers could play the games for 10 to 15 minutes three or four times per week to achieve "full potential in every aspect of life," and falsely claimed its health related benefits were backed by scientific studies.
Lumos Labs is facing a $50 million judgement, but the FTC has agreed to suspend the full amount due to Lumos Labs' financial position. Instead, the company will pay $2 million and will agree not to make future health and performance claims without "competent and reliable scientific evidence." Lumos Labs is also ordered to notify subscribers about the FTC action and provide them with a way to cancel their subscriptions.
Lumosity is just one of many "brain training" apps available in the App Store. Elevate, another highly popular brain training app that's been highlighted by Apple, claims its app will help improve "critical cognitive skills" to "boost productivity," but it shies away from making the deceptive health-related claims that got Lumosity in hot water.