Samsung Announces Next-Generation 'Portable SSD T3' With USB-C Port
Ahead of this week's Consumer Electronics Show in Las Vegas, Samsung has announced its latest external solid state drive, the SSD T3. An evolution of the SSD T1, the Portable SSD T3 is Samsung's first SSD to include a USB 3.1 Type-C port instead of a standard USB B port.
Devices that use USB Type-C are proving popular at this year's CES, with multiple companies introducing new USB-C docks, connectors, and more. All of these products, including Samsung's SSD, are compatible with the 12-inch Retina MacBook, Apple's first computer to take advantage of USB-Type C.
Samsung's Portable SSD T3 features a body that's encased in silver and gray aluminum, an upgrade from the plastic body of the SSD T1. Internally, the SSD T3 features the same controllers with SSD TurboWrite technology and Vertical NAND flash used in each of Samsung's 2.5-inch SATA solid state drives.
The SSD T3 offers sequential read and write speeds of up to 450MB/s, and it's also lighter and more durable than most standard hard drives on the market. According to Samsung, it's smaller than an average business card. It can survive up to 1500G of force and will remain functional even after a drop of up to two meters.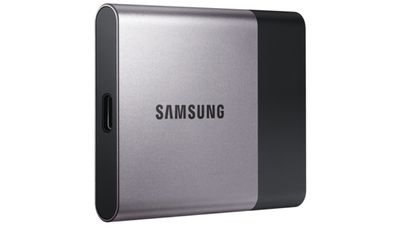 Available in 250GB, 500GB, 1TB, and 2TB capacities with AES 256-bit hardware encryption, the SSD T3 ships with a USB Type-C to Type-A cable in the box, so it's able to be used with Macs that don't have a USB-C port. With its aluminum case, the SSD T3 is slightly heavier than the original T1, weighing in at 51 grams, and it measures in at 74mm x 58mm x 10.5mm.
Samsung has not unveiled pricing on the new SSD, which is expected to start shipping out in February of 2016.