Apple Dominates Holiday Sales With Nearly 50% of All New Device Activations
Apple devices accounted for just under half of new mobile device activations during the holiday season, according to a new report released today by mobile analytics firm Flurry. 49.1 percent of all new devices activated were Apple devices, and while that number is slightly down from last year's 51.3 percent, Apple still dominated all other mobile device companies.
Samsung devices, for example, were responsible for 19.8 percent of all device activations, while Nokia devices made up 2 percent and Xiaomi devices made up 1.5 percent of all device activations.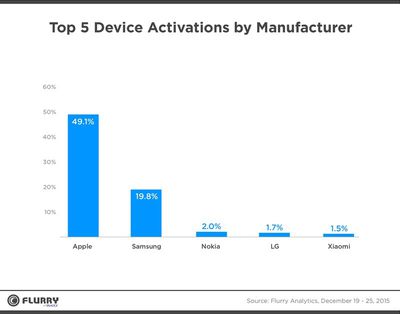 Larger-screened "phablets" like Apple's 5.5-inch iPhone 6s Plus were especially popular during the 2015 holiday season compared to prior years, representing 27 percent of new device activations. That's up from 4 percent in 2013 and 13 percent in 2014. Full-sized tablets have gone down in popularity, making up only 9 percent of new device activations in 2015.


Medium-sized iPhones like the 4.7-inch iPhone 6 were still the most popular Apple devices over the holiday period at 65 percent, followed by full-sized tablets, phablets, and smaller tablets like the iPad mini. Comparatively, only 35 percent of Android devices activated were medium-sized smartphones, while 50 percent were phablets.

Apple's phablet was introduced in September 2014, and in less than a year and a half has commanded 12% share of all Apple devices activated during Christmas week. This appears to be coming at the expense of medium phones and small tablets as more users opt for the size in between the iPhone and iPad Mini. You'll note we did not break out a "Large Tablet" category for the new iPad Pro. These are grouped into "Full-Size Tablets" and represented less than 1% of device activations.
As for app downloads, Christmas day saw customers downloading 2.2x as many apps as the average day in December across multiple platforms including the Apple App Store and Android's Google Play.
To gather its data, Flurry measured smart device activations and app downloads from the more than 780,000 apps it tracks. Data was collected from December 19 to December 25.