Apple Dominates Christmas Week With Over Half of New Mobile Device Activations
Mobile analytics firm Flurry today reports Apple accounted for just over half of new mobile device activations for the holiday season, with 51.3 percent of worldwide activations going to the Cupertino-based company.
Using data from more than 600,000 tracked apps, Flurry focused on the week leading up to and including Christmas, from December 19-25. Trailing Apple in worldwide device activations was Samsung with nearly 18 percent and Nokia at almost 6 percent. Xiaomi, Huawei, and HTC all had less than one percent of device activations, which Flurry notes could be related to their popularity in Asian markets where the holiday season isn't the big gift-giving event it is in other parts of the world.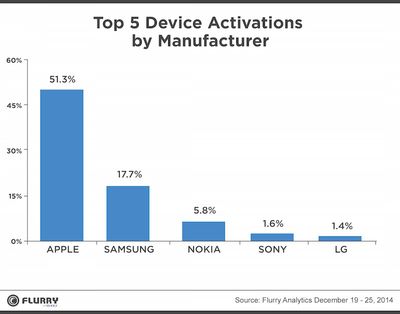 To put this in perspective, for every Samsung devices that was activated, Apple activated 2.9 devices. For every Microsoft Lumia device activated, Apple activated 8.8 devices. While, the holidays in general and Christmas in particular are not the sole indicator of the smartphone market share and trends, it is safe to say that Apple's newly released iPhone 6 and iPhone 6 Plus have had a blockbuster holiday season, despite a lackluster holiday season for the consumer electronics industry.
Flurry also notes that on Christmas Day the number of app installs more than doubled compared to the early weeks of December, pointing to games and messaging apps as seeing the biggest jumps on Christmas morning.
The analytics firm also notes that "phablets" are gaining significant share in the market thanks to Apple's entry with the iPhone 6 Plus. "Medium Phones" such as the iPhone 6 still dominate the market as in years past, but the growth of the phablet in 2014 has taken share away from "Full-size Tablets" and, less drastically, "Small Tablets."


Looking at the year ahead, Flurry predicts iOS devices will continue to perform well alongside a continued shift in public opinion that will drive continued growth for the phablet form factor.