No 3D Touch for iPad Air 3 Due in First Half of 2016, iPhone 7's 3D Touch Tech Similar to iPhone 6s
KGI Securities analyst Ming-Chi Kuo has issued a research note obtained by MacRumors that predicts the iPad Air 3 will be released in the first half of 2016 and is unlikely to adopt 3D Touch because of production issues within Apple's supply chain.
Kuo also believes the iPhone 7's pressure-sensitive 3D Touch display will have "similar technology and structure" as the iPhone 6s. The report confirms the iPhone 7 will be released in 2016, likely around Apple's usual September timeframe.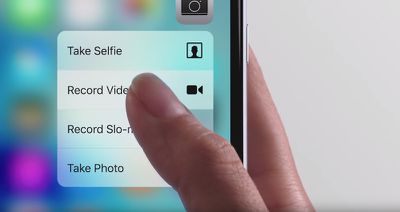 Apple could unveil the iPad Air 3 at its rumored March 2016 event, where it is expected to introduce a new 4-inch iPhone and the second-generation Apple Watch. Apple last held a March 2015 event to announce the 12-inch Retina MacBook and Apple Watch pricing and release date information.
Apple often releases new iPads in the fall, but it did not announce the iPad Air 3 at its eventful September 2015 keynote, instead focusing its efforts on introducing the iPhone 6s and iPhone 6s Plus, iPad Pro, iPad mini 4, Apple TV 4 and Apple Watch Hermès. Apple announced the iPad Air 2 in October 2014.
Apple introduced the iPhone 6s and iPhone 6s Plus in September with 3D Touch as a headline new feature. The pressure-sensing technology enables iPhone users to perform additional "Peek" and "Pop" gestures to access Quick Action shortcut menus or preview content within apps.
3D Touch also enables iPhone 6s and 6s Plus users to press the left side of the Home screen to switch to multitasking view, press lightly for finer lines or more deeply for thicker ones in Notes, swipe left or right to delete or mark as unread in Mail while using "Peek," and much more.