tvOS App Store After One Month: 2,624 Apps in Total, Entertainment Apps Most Popular With Consumers
It's been more than a month since tvOS and the tvOS App Store launched alongside the new fourth-generation Apple TV, marking a good time to take a look at the state of the tvOS App Store. AppFigures today published some figures on tvOS apps, giving us an overview of the new App Store's progress since it launched.
There are a total of 2,624 apps available in the tvOS App Store, and AppFigures expects growth to hit 5,000 apps in January and 10,000 apps early in 2016, with an average of 447 apps being added to the tvOS App Store each week. At that growth rate, tvOS is closely mirroring the growth of the original iOS App Store. In July of 2008, the iOS App Store launched with 500 apps, and expanded to 9,676 apps four months later in November of 2008.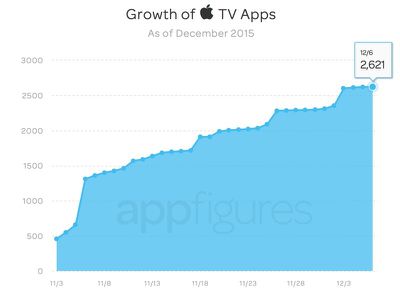 At six months, the iOS App Store was at 15,000 apps and 500 million downloads, so it will be interesting to see if the tvOS App Store keeps pace. As of now, its growth rate compared to the growth rate of the iOS App Store is promising -- in a few years, the tvOS App Store could closely resemble the iOS App Store in terms of app availability.
Of course, Apple will need to entice developers to the platform for it to be as successful as the iOS App Store, and that could be an uphill battle. TouchArcade editor-in-chief Eli Hodapp recently spoke to multiple tvOS developers who have popular apps and games in the tvOS App Store, many of whom are earning $100 "on a good day" with revenue that's been trailing off since the Apple TV launched.
The tvOS App Store may be growing steadily, but if Apple can't encourage developers to create high-quality content for the platform, it could go the way of the Mac App Store instead of the iOS App Store. Aside from a handful of super popular apps, most Mac App Store apps aren't bringing in a lot of money and some developers are even abandoning the platform because of the way Apple has handled it.
There are no ads available in tvOS apps, so developers must charge money up front or generate revenue through in-app purchases. A lot of people have come to expect content for free through the iOS App Store, which is problematic. According to AppFigures, 39 percent of apps on the tvOS App Store are paid apps. Most paid apps are priced at $0.99, and almost all paid apps are priced below $4.99.


When it comes to the composition of apps in the tvOS App Store, games are, unsurprisingly, the most popular category, making up 38 percent of all Apple TV apps. Of the 2,624 apps available, 1,002 of those are in the Games category. Entertainment, which includes apps like Netflix or Hulu, is the second most popular category, followed by Education and Lifestyle.


Though games are the most prolific apps in the tvOS App Store, based on the top 50 most downloaded apps, customers are more interested in the Entertainment category, downloading apps like Netflix, Hulu, and HBO Go. Games is the second most popular download category, followed by News.
AppFigures data was gathered from its Appbase app catalog, which contains more than four million apps from all major app stores, including Apple TV apps.