Google to Fix Incorrect 1-Star App Ratings in Search Results Next Week
Google today acknowledged an ongoing issue causing a number of iPhone, iPad and Mac apps to display incorrect one-star ratings in its search results on the web, and confirmed that a fix should be implemented by early next week.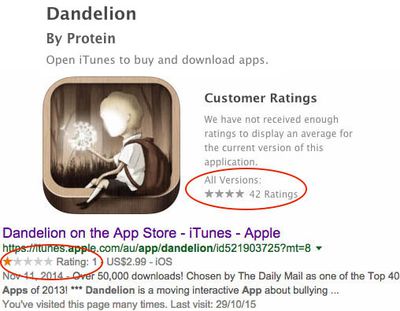 "I'm happy to share that we've been working hard on providing a solution, and a new fix has been scheduled for the next release, which should be rolling out early next week," wrote Google Search community manager AJ in the Google support forums.
A growing number of developers, including the makers of Dandelion, have reported incorrect one-star ratings in Google search results since late October, despite actually having higher-than-one-star ratings on iTunes.
One of the apps that we have developed - Dandelion App - has an average of 4 star rating on the iTunes store, however when you search it on Google Search, it comes up as 1 star. How does Google generate the average ratings on its search page? Is this an error? The app has more than 1 review - so just interested why it's coming up with the wrong information.
The issue appears to be limited to App Store apps that have not received enough ratings (five or more) to display an average for the current version, a threshold that can take a while to reach for apps that have limited downloads or frequent updates.
Google community manager AJ advises developers that continue to see incorrect ratings in search results after mid next week to report the issue in the Google support forums so the company can continue to investigate.