Disney today launched a new Disney Infinity 3.0 Edition Starter Pack for the fourth-generation Apple TV, bundling a SteelSeries Nimbus Wireless Controller and a Bluetooth-enabled Disney Infinity Base in a package that's now available for purchase directly from Apple retail stores.
The new Disney Infinity 3.0 Edition game for the Apple TV is available on the device as of today, and in addition to the controller and the base, the bundle Disney is offering is Star Wars-themed with the Star Wars: Twilight of the Republic Play Set piece and the Anakin Skywalker and Ahsoka Tano figures. The figures will unlock a comprehensive Star Wars gaming experience with both new and classic Star Wars characters and storylines.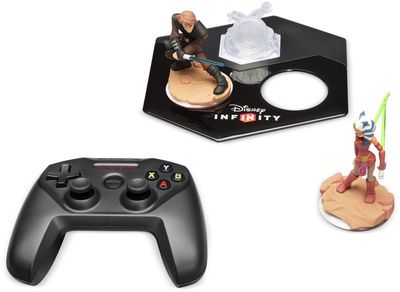 Earlier figures and Power Discs from the 1.0 and 2.0 versions of Disney Infinity are compatible with the new Disney Infinity 3.0 version of the game on the Apple TV. Disney Infinity has largely been limited to console-only platforms from Xbox, Nintendo, and Playstation, but in recent months, the franchise has expanded to PC, Android, and iOS devices.
With gaming now available on the Apple TV, Disney has delivered the first full console style experience to Apple's set-top box with the launch of Disney Infinity 3.0. For those unfamiliar with the Disney Infinity line, it's a sandbox-style action adventure world where gamers can unlock new characters and gameplay experiences using real-world collectible figurines.
The Disney Infinity 3.0 Edition Starter Pack for the Apple TV can be purchased from the Apple Store for $99.95.