Apple Music Expands to Android With New App
Apple is launching its first major app for Android devices today, expanding its Apple Music platform to Android-based smartphones and tablets. With the introduction of a beta Apple Music app for the Google Play Store, Android users will be able to subscribe to the Apple Music streaming service, listen to Beats 1 radio, and access the Apple Connect artist-based social network.
The new Apple Music app is available from the Google Play store and requires Android 4.3 or later. It's available in all of the countries where Apple Music for iOS is available, with the exception of China. Apple Music includes the same three-month trial for Android users and it is priced the same - $9.99 for an individual plan and $14.99 for a family plan.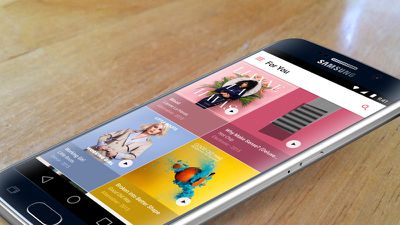 TechCrunch spoke with Eddy Cue about the launch of the new Android app for Apple Music, who said Apple's decision to create an Apple Music Android app was based on a desire to let people enjoy music "no matter where you were and what products you were using." Apple wants "everyone in the world" to be able to try Apple Music, including those in areas where Android devices remain more popular than iOS devices.
Apple Music for Android offers a design that's similar to the iOS version, but as it's a beta, it does not yet include Music Videos or the ability to sign up for a family membership within the app. Family memberships will need to be purchased on an iOS device. According to Cue, Apple Music is "a full native app" that will "feel very much like an Android app."
"We wanted customers on Android to naturally be able to use it -- what they've learned and how they interact is common. Things as simple as [that] the share icon looks like an Android share icon; the menu structure being where it is; these are things that most Android customers are familiar with. We wanted to make sure that they felt very familiar with Apple Music when they sat down to use it."
Apple Music is not Apple's first app for Android, but it is the most significant. Apple previously released a "Move to iOS" app that helps Android users transition to the iPhone, and it's launched an Android app for controlling the Beats Pill+ speaker. All of Apple's Android apps have come in the last few months, signaling its willingness to expand beyond the iOS ecosystem for the first time.