Apple Orders Display Driver Chips From Synaptics for Next iPhones
Apple has placed LCD display driver orders with touchscreen supplier Synaptics for its next-generation iPhones, indicating the Cupertino-based company's in-house development of touch and display driver integration (TDDI) chips may have fallen behind schedule, according to Taiwanese website DigiTimes.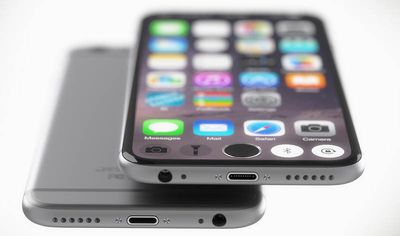 iPhone 7 concept with integrated Touch ID by designer Martin Hajek
Synaptics
acquired
Renesas SP Drivers, reportedly the sole supplier of LCD driver ICs for iPhones, in September 2014 in an effort to maintain orders from Apple, and for now it appears the iPhone maker will remain one of its customers. The supplier also works with Google, HTC, Microsoft, Samsung, Sony and other smartphone makers.
Apple previously recruited senior Renesas engineers to internally develop TDDI chips with Touch ID integrated into the display. The single-chip solution could allow for the Home button to be eliminated on future iOS devices, but Apple ordering regular display drivers from Synaptics indicates the technology may not be ready for the iPhone 7.
Apple has filed multiple patents for displays with integrated Touch ID and trackpad capabilities over the past few years, and the iPhone 7 lineup is due for a significant redesign, but it remains too early to predict whether Apple will ever remove its iconic Home button on future iPhones.
In March, Synaptics announced the first TDDI single-chip solutions for smartphones and tablets, allowing for thinner and brighter displays with best-in-class capacitive touch performance. The reduced number of components, fewer lamination steps and increased manufacturing yield of TDDI chips also lowers production costs.