Apple's Plans to Enhance Touch ID with Trackpad Capabilities and Display Integration Revealed
Late last week, we highlighted a pair of Apple patent applications offering details on the company's implementation of its "Touch ID" fingerprint sensor in the iPhone 5s. The highly technical patent applications showed how the system works and revealed that Apple first moved to protect the ideas with the filing of several provisional patent applications in May 2012.
A third Touch ID-related patent application filed by Apple also quietly surfaced last week (via Unwired View) but has flown under the radar until now because it appears to have published on the World Intellectual Property Organization's database but not the U.S. Patent and Trademark Office's database.
This third patent application is the most revealing yet with regard to Touch ID, showing how Apple has envisioned expanding the feature to incorporate trackpad functionalities, tracking movements of a user's finger or thumb over the sensor to navigate through user interfaces on the device's screen. In one example, Apple shows how a user moving his or her finger right to left across the Touch ID home button could pan a map, with a subsequent upward movement across the home button triggering activation of a multitasking interface.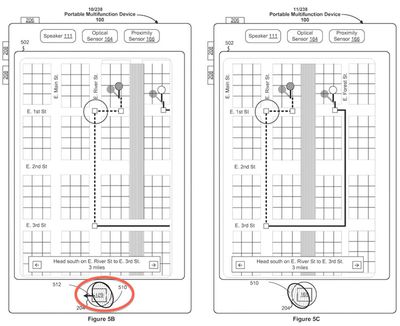 Panning a map by moving finger right to left over Touch ID home button
Other examples show how users could take advantage of "revolving" or "twisting" motions of their fingerprints on the Touch ID home button to initiate actions. Adding the ability to recognize presses of various durations for the Touch ID home button and even sensors for detecting how hard the button is being pressed could offer even more powerful user interface navigation capabilities right from the home button.
Moving beyond the home button, Apple addresses the possibility of integrating Touch ID right into a device's display, allowing any area of the screen to be dynamically designated as a sensing region for the user's fingerprint. In one example, the area of a display representing the device's email app could require a valid fingerprint touching the icon in order for authorization to be granted.

Authorizing Mail app with Touch ID sensing integrated into device display
Overall, Apple's patent application is a massive 610-page document incorporating 464 claims covering a wide range of applications for Touch ID in the future. Beyond the examples highlighted here, the application covers a number of other areas including:
- Enhanced touch typing recognition through sensing which fingers are touching the keys
- Using pressure and movement sensing to turn the home button into a simple game controller
- Using revolving "scroll wheel" motions on the home button to navigate through multitasking app listings
- Using fingerprint verification to enforce parental controls on age-rated media content, restrict maximum device volume, or automatically increase font sizes for children, seniors, or visually-impaired users
- Autofilling web forms or loading personalized web pages based on fingerprint identification
- Supporting multi-user profiles including authorized and guest profiles through fingerprint authorization
- Authorizing location "check-ins", mobile payment information, or photo/document author tagging based on fingerprint identification
- Supporting simultaneous multi-user configurations by allowing users to define separate areas of a device's screen for drawings, notes, or other content based on fingerprint recognition
Apple's patent application was filed on May 20, 2013, but cites as priority several provisional patent applications dated as far back as May 2012.