Apple Patents Switch-Less Force Touch Keyboard, Could Lead to Thinner Macs
The U.S. Patent and Trademark Office on Tuesday granted Apple a patent for a low-travel keyboard design with Force Touch-like sensors that measure the pressure placed on a key when a user presses or rests a finger on it.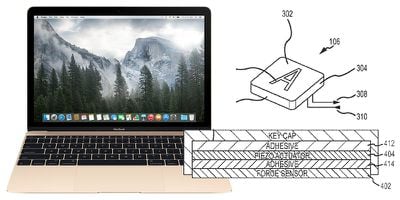 As summarized by AppleInsider, the exhaustive patent filing details how the keyboard would have a switch-less QWERTY input mechanism, rather than mechanical switches, allowing for less key travel and potentially thinner Mac keyboards.
Apple's current MacBook and Mac accessory lineups employ modified scissor switches, or butterfly switches on the 12-inch Retina MacBook, nestled within hollow key caps. Today's patent mirrors the aesthetic of existing designs, but deviates from established technology by replacing mechanical switches for a stack of sensors, actuators and supporting circuitry.

Theoretically the system operates akin to Apple's Force Touch trackpads, but on a much larger scale; one force sensor package for each keyboard key. Force sensors configured to measure downward pressure are integrated beneath the keyboard's key caps, while integrated actuators — part of the key stack — generate haptic feedback.
The patent filing does not guarantee that Apple will release a Force Touch keyboard, but a pressure-sensitive keyboard is plausible alongside the Magic Trackpad and Force Touch trackpads on MacBooks.
Apple's new Retina MacBook has been criticized by some over its all-new butterfly mechanism keyboard, which has low key travel, so whether Apple implements this new keyboard design into the rest of its MacBook lineup remains to be seen.
Apple was granted U.S. Patent No. 9,178,509, and credits Jeffrey T. Bernstein as its inventor.