KGI Forecasts Around 75M iPhone and 4M Apple Watch Sales During Holiday Shopping Season
KGI Securities analyst Ming-Chi Kuo has released shipments forecasts for the iPhone, iPad, Mac and Apple Watch for upcoming fiscal quarters. Kuo estimates between 70-75 million iPhone and 3.5-4 million Apple Watch shipments during Q1 2016 of the fiscal year, which encompasses the busy holiday shopping season in the U.S., Australia, Canada, Europe and many other regions.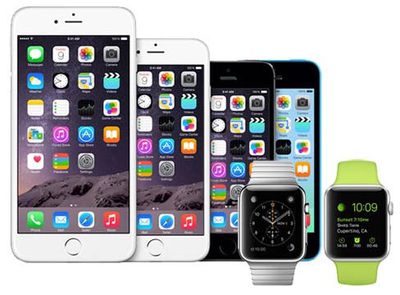 In a research note, a copy of which was obtained by MacRumors, Kuo believes that iPhone sales momentum could gradually decline in the new year, possibly enough for the device to experience its first year-over-year shipments decline in the first quarter of a year in 2016.
We estimate iPhone shipments rose 2.1% QoQ and 23.6% YoY to 48.5mn units in 3Q15, of which 20-22mn units were iPhone 6s. We attribute the solid YoY growth to the inclusion of China as the first-launch market for iPhone 6s and to increased output of the new model (versus 14-15mn units of iPhone 6 in 3Q14).

However, as we do not expect overall demand for iPhone 6s to be significantly stronger than that for iPhone 6, we expect shipments momentum could gradually decline in 4Q15-1Q16F on a YoY basis. We expect iPhone may see its first YoY shipments decline in the first quarter of a year in 2016.
Kuo also forecasts between 14.5-15.5 million iPad shipments and 5.4-5.6 million Mac shipments in fiscal Q1 2016, which lines up with Q4 2015 of the calendar year, a three-month period ending December 31.
The analyst expects iPad Pro shipments to be around 2 million in fiscal Q1 2016, and believes the tablet's higher selling price will help offset an annual decline in iPad shipments, which could fall 16% to 40-42 million units in 2016.
We now expect shipments of iPad Pro to be around 2mn units in 4Q15, versus our previous forecast of 4-5mn units given quality issues with Sharp's panel supply. However, thanks to a higher shipments weighting of iPad Pro, coupled with a lower mix of iPad mini, we anticipate the ASP of end-products and some components will trend up in 2016F (e.g. we estimate the ASP of backlight unit to rise 30-35% in 2016). This should be enough to offset total iPad shipments decline, which we estimate will fall 16% to 40-42mn units in 2016F.
Kuo expects that, amid lackluster sales for PCs, Mac sales will continue to be better than those of competitors. The well-informed analyst says the 13.3-inch MacBook Pro is Apple's most popular notebook, followed by the 12-inch MacBook, and expects the new iMacs with 4K and 5K Retina displays to account for at least 50-60% of total iMac shipments in Q1 2016 of the fiscal year.