Earlier this week, Google released Chrome 46 with a long list of bug fixes and feature improvements to improve memory and power usage, but unmentioned was the removal of "OK Google" voice-based search activation.
As noted by VentureBeat, it's no longer possible to use the "OK Google" phrase to trigger a voice search, which has been a feature built into the Chrome browser since May of 2014. "OK Google" was removed from the Chrome browser on Windows, Mac, and Linux, but is still available on Chrome for mobile devices and Chromebooks.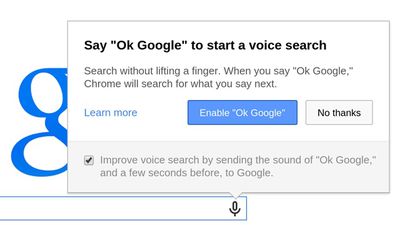 Google removed the feature because it wasn't heavily used, and its deletion should help save power and speed up browsing as the Chrome browser will no longer need to continually listen for voice commands.
"OK Google" search activation is just one of the lesser-used features that Google removed this week. Also being nixed is the notification center, which Google says "few users" visited on a regular basis. It will be removed with the next iteration of Chrome.