Facebook Aware of iOS App Battery Life Drain Issue and Working on a Fix
Facebook today acknowledged its awareness of an issue raised by a few iOS users last week, who saw large amounts of battery drain on their iPhones while the social networking app ran in the background, even with background app refresh toggled off. Speaking with TechCrunch, a Facebook spokesperson confirmed the company's awareness of the bug and promised a fix would be in place "soon."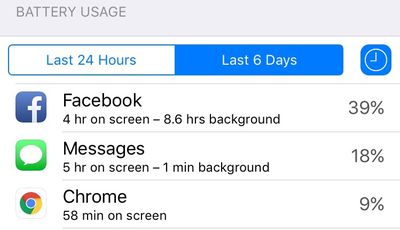 MacRumors Forum member Oridus suffering from the Facebook battery drain bug
"We have heard reports of some people experiencing battery issues with our iOS app. We're looking into this and hope to have a fix in place soon," the spokesperson said.
A number of Facebook users have commented on the issue of background battery drain over the past week, with users on the MacRumors Forums posting about the issue as far back as last Thursday. One poster (seen above) saw Facebook responsible for a dramatic 39 percent battery usage over a six day period, despite having background app refresh set to off.
Several sites have attempted to theorize on the cause behind the overzealous battery drain, including MacStories, hypothesizing that the reason behind the bug could be silent audio emanating from the service's auto-playing videos. Since most people don't bother with turning off auto-play, Facebook could be keeping a muted audio track running in the background with users largely unaware, letting it run and "consume energy to perform background tasks" even after leaving the app.
The company itself hasn't commented on the source of the bug, but at least those affected can look forward to a fix for it in the future.