Second Wave iPhone 6s and 6s Plus Launch Kicks Off in 40 Countries Around the World
Apple's iPhone 6s and 6s Plus are now available for purchase in Taiwan, marking the start of the second wave iPhone launch. Beginning October 9, iPhone 6s and 6s Plus availability is expanding to more than 40 countries, the bulk of which are in Europe. In each country, Apple retail stores, Apple Authorized Resellers, and local carriers will begin offering the iPhone 6s and 6s Plus as retail locations begin opening in the morning.
A full list of countries where the iPhone 6s and 6s Plus will be available as October 9 rolls around is below:
Andorra, Austria, Belgium, Bosnia, Bulgaria, Croatia, Czech Republic, Denmark, Estonia, Finland, Greece, Greenland, Hungary, Iceland, Ireland, Isle of Man, Italy, Latvia, Liechtenstein, Lithuania, Luxembourg, Maldives, Mexico, Monaco, Netherlands, Norway, Poland, Portugal, Romania, Russia, Slovakia, Slovenia, Spain, Sweden, Switzerland, and Taiwan
Locations in Taiwan recently began selling the new iPhones, with some customers that having waited in line for more than 60 hours to get one of the first available phones in the country (via TechBang).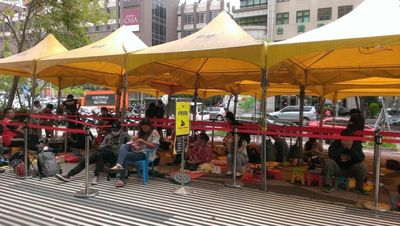 Customers line up for the iPhone 6s in Taiwan, via

TechBang


In several of the countries where the iPhone 6s launch is still a few hours off, customers are already lining up. In Copenhagen and Sweden, customers are waiting outside Telia stores to get an iPhone. In Russia, customers have the option to get their iPhone 6s and 6s Plus devices delivered via taxi, and in Italy, customers are waiting in line at the Apple Store in Campi Bizenzio as a fundraiser for a pediatric hospital.
Following today's launch, iPhone 6s and 6s Plus availability will also be expanding to additional countries as part of additional waves set to take place in subsequent weeks.
- October 10: Bahrain, Jordan, Kuwait, Qatar, Saudi Arabia, and United Arab Emirates
- October 15: Israel
- October 16: India, Kazakhstan, Macedonia, Malaysia, Malta, Montenegro, South Africa, and Turkey
- October 23: Belarus, Guam, Moldova, Serbia, South Korea, and Ukraine
In a recent press release announcing opening weekend iPhone 6s and 6s Plus sales of more than 13 million, Apple said the company will bring the new iPhones to more than 130 countries by the end of the year.