AT&T Receives FCC Waiver Needed for Wi-Fi Calling, No Launch Date Yet
Earlier this week, AT&T announced that it had delayed its promised Wi-Fi calling feature as it had not been able to obtain an FCC waiver that would allow it to temporarily forgo offering support options for deaf and hard-of-hearing people. Following that announcement, the FCC has now granted AT&T's waiver request, allowing the carrier to proceed with its Wi-Fi calling launch plans.
The waiver is available on the FCC website [PDF] and grants AT&T the right to delay implementing a teletypewriter (TTY) service for the deaf until December 31, 2017. AT&T plans to instead use a newer form of communication, real-time text (RTT) as an alternative, and the waiver will allow it to avoid using a TTY service until its RTT service is fully operational.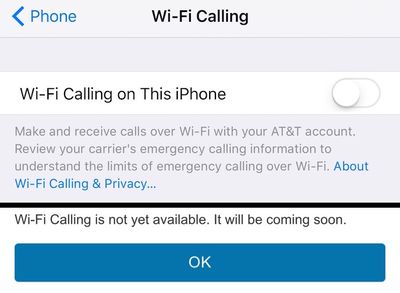 In response to the FCC's waiver grant, AT&T Senior Executive Vice President of External and Legislative Affairs Jim Cicconi gave MacRumors the following statement:
We're grateful the FCC has granted AT&T's waiver request so we can begin providing Wi-Fi calling. At the same time we are left scratching our heads as to why the FCC still seems intent on excusing the behavior of T-Mobile and Sprint, who have been offering these services without a waiver for quite some time. Instead of initiating enforcement action against them, or at least opening an investigation, the agency has effectively invited them to now apply for similar waivers and implied that their prior flaunting of FCC rules will be ignored. This is exactly what we meant when our letter spoke of concerns about asymmetric regulation."
In its original statement on the waiver delay, AT&T called out Sprint and T-Mobile for implementing Wi-Fi calling without obtaining similar permissions from the FCC, a sentiment that is again echoed in the above statement. Both T-Mobile and Sprint have allegedly implemented their Wi-Fi calling features without requesting a waiver for TTY rules.
Though AT&T now has its waiver, the company has not yet provided a timeline on when its subscribers can expect to have access to Wi-Fi calling. Ahead of the waiver fiasco, AT&T made Wi-Fi calling available during the iOS beta testing period, suggesting it is ready to debut in the near future.
(Thanks, Ryan!)