Disney Artists Go Hands-On With Upcoming iPad Pro and Apple Pencil
Apple today sent a few iPad Pros over to Disney, where Disney animators were able to use them alongside the Apple Pencil to test out the iPad Pro's drawing and sketching capabilities in a professional environment.
Disney Story Artist Jeff Ranjo shared a Periscope that demonstrates the iPad Pro in action, and several images of the Disney team's drawings were shared on Twitter. The Disney team was using a beta version of popular drawing app Procreate, which has been updated to work with the iPad Pro, and an iPad Pro version of Paper by Fiftythree was also shown off.
In the Periscope, Ranjo was impressed with the grip of the iPad Pro's screen when used with the Pencil, and he also was a fan of the palm rejection features. When drawing on an iPad Pro, the palm of a hand can be rested on the screen, but it's still responsive to zoom gestures. At the end of the video, which is well worth watching to see the iPad in action, he says "Let's order a bunch of them."
Several additional photos were shared by Disney Product Manager Paul Hildebrandt. Disney Story Artist Paul Briggs used the iPad Pro to sketch Olaf from the movie Frozen, while longtime Disney artist Paul Felix drew classic Disney character Mickey Mouse.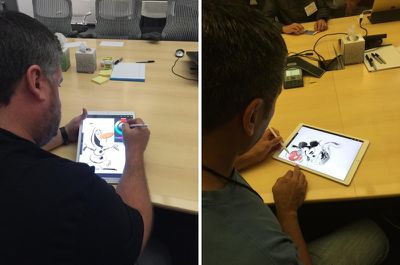 Apple's iPad Pro, Pencil, and Smart Keyboard will launch in November. Apple has not yet provided an exact release date for the new tablet, but recent rumors have suggested it could debut early in the month.