Philips Announces New Hue Bulbs, Hue Bridge 2.0 With HomeKit Compatibility
Philips today announced its first HomeKit-enabled product, debuting the Hue Bridge 2.0, an updated version of its original Hue Bridge. With the Hue Bridge 2.0, its line of Philips Hue lights are able to work with Apple's home automation platform, allowing all existing and future Hue bulbs to be controlled with Siri voice commands.
Commands like "Turn lights red" can be used for specific colors, while commands like "Set the lamp to 30 percent" can be used for dimming. Lighting scenes that have long been available in the Philips Hue app can now be turned on using Siri. With HomeKit integration, an entire household of lights can be manipulated with a single command.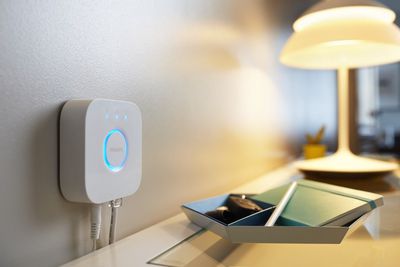 While most HomeKit apps support other HomeKit products, the Hue app will work differently. It can be used to control the Hue line of lights and set up light-specific scenes, but it is not able to incorporate other HomeKit products. Hue lighting scenes will be made available in other HomeKit apps, however, so it is possible to group the Hue lights with other products, using one command to do things like unlock a door and turn on the lights at the same time.

"Lighting is the most accessible aspect of the connected home, and as the lighting expert for the Internet of Things we are taking connected lighting to the next phase," said Eric Rondolat, Chief Executive Officer at Philips Lighting. "By integrating Philips Hue with Apple HomeKit, we are broadening people's experience of light beyond what has been previously possible, providing seamless interoperability with other connected home devices."
The new Hue Bridge 2.0 looks similar to the existing Hue Bridge, but it is square like the Apple TV rather than round. Along with the new bridge, Philips is also debuting a new set of lights. The new Hue bulbs are somewhat brighter at 800 lumens instead of 600 lumens.
The original Hue Bridge will not be updated with HomeKit compatibility as it does not have the necessary hardware, but Philips plans to continue to support it with software updates. Original Hue Bridge owners will need to purchase a Hue Bridge 2.0 to access HomeKit, but will get a discount of $20 on the product.


The new Hue Bridge 2.0 is priced at $60, but customers who own an existing Hue Bridge can get it for $40. The full lighting kit with new bulbs and the new bridge is priced at $200. All new Hue products are available beginning October 6 from Apple retail stores, Best Buy, and Amazon.